I'm going fully automatic for Bullet Sunday on Blogography today!
• Science! Yesterday while I was running errands, I dropped by the crafts store for some spray glue. As I was standing in line to pay for my stuff, I saw a kid holding a cardboard "presentation board" which he was using for his Science Fair project. This made me a little bit angry. CARDBOARD? Back when I made my science fair project, I had to use REAL WOOD BOARDS and METAL HINGES and SCREWS. My science fair board weighed a ton, but had the benefit of being indestructible. I pity the fool who uses wimpy CARDBOARD on their science fair project! So this is what people mean when they talk about the "pussification of America!"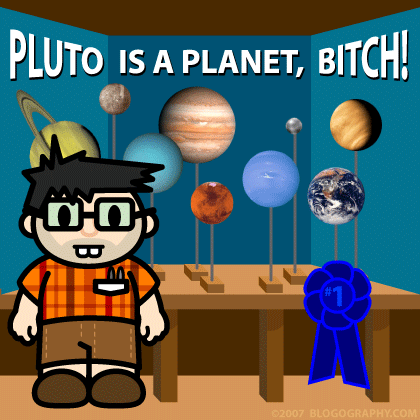 • Cake! I ran into Wenatchee to pick up my grandma's cake this morning... it wasn't exactly what we had wanted, but it was a heck of a lot better than what we had the first time (i.e. it was actually cake-shaped). Most important of all, it tasted delicious and everybody liked it. Overall the party went really well, though I did have a weird moment when I walked up and found my grandmother discussing Britney Spears with her sisters. Apparently they're as sick of hearing about her as the rest of us.
• Reamed! Last night I got a nasty piece of hatemail claiming that Blogography glorifies drug use and should be held responsible for encouraging kids to do drugs (among other things). To which I replied "huh?" Turns out this had to do with a story I drew where Bad Monkey got caught trying to smuggle heroin. To which I replied "huh?" I still don't get it. At no point in the cartoon does Bad Monkey (or anybody else) actually use drugs. It's not like I have my monkey shooting-up and throwing a party or anything. Maybe THIS is what people mean then they talk about the "pussification of America?"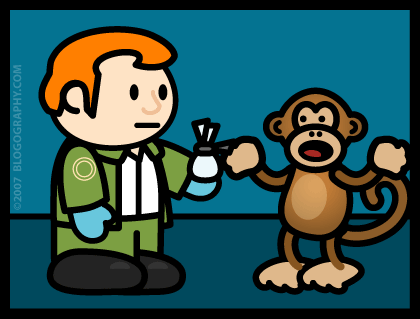 • Chocolate! GAH! I AM SICK OF DARK CHOCOLATE!! They're starting to put that bitter crap on everything! I'm a milk chocolate kind of guy, and it is really frustrating to have to dig through all this dark chocolate junk to find something I want. This morning I bought a package of M&M's that I opened while I was driving home, only to learn that they were M&M's DARK. I didn't notice that I had grabbed a purple bag instead of the brown bag. I only ate that one handful, but I've still got that bitter taste stuck in my mouth nine hours later. Oh how the memory of it haunts me still.
• Bullet! Hey, if this is Bullet Sunday #51, and there are 52 weeks in a year, does that mean next week I'll have been doing Bullet Sunday for a year? Who knew?
Hmmm... I guess that's all she wrote, because the crazy old couple that lives in the mobile home park next door are screaming at each other again, and there's nothing good on television...