w00t! This wraps up one year of Bullet Sunday here at Blogography! I started it as a way to post about all the little things that happen during my week that aren't big enough to merit an entry of their own. It was a good plan, but rather than keeping track of little things throughout the week, I always end up waiting until the last minute where I have to struggle to think up something. Oh well. I've grown to like Bullet Sunday, so I guess it will be sticking around.
• Sauce! While I was shopping for ingredients to make burritos last night, I was in the Mexican food aisle listening to a woman yell at her kid for picking up a bottle of hot sauce. "Put that back! We can get that for free at Taco Bell!" she says. I can't help but wonder if she gets her ketchup from McDonalds.
• Aquaman! A TV show I've always wanted to see but never got around to was the Aquaman pilot (made by the same people responsible for Smallville.) Last night I couldn't sleep and finally got around to seeing it. Much to my surprise, it was actually pretty good! Now I'm sad that the show was never picked up for a series... it may not have been entirely faithful to the comic book, but was pretty entertaining and had real potential.
The cool thing about the show is that Aquaman doesn't take things too seriously. He's your average slacker beach-bum that just happens to be able to breath underwater, swim fast, and talk to fish. But when when the shit hits the fan, he's kind of a bad-ass too... like stabbing evil harpy bitches in the head! Sweet! I also like that there are subtle nods to the source material... like Aquaman wearing Orange and Green like in the comic book. If you want to check it out, you can buy it at iTunes for $1.99 or watch it on Joost for free.
• Alpha Flight! Speaking of comics... when I was in Spokane last week, I picked up the two trade paperbacks collecting the "all new, all different" Alpha Flight series that Marvel released in 2004. Despite the fact that it was widely criticized and cancelled after only 12 issues, I really liked the series, and am glad to have the trades to read again. Compared to some of the crappy books that are being released today, the imagination and clever dialogue shown in Alpha Flight is a breath of fresh air... even though it's three years old...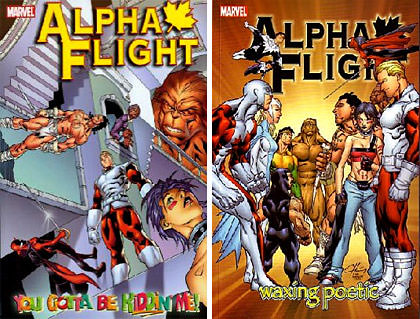 • Spam of the Day! "Start a new life with beautiful large and firm breasts!" — Hmmm... while that most certainly would be the start of a new life for me, I think I'll pass. And while it might be funny when a guy gets sent an email for breast enlargement, I can't help but wonder if these spamming assholes even give a shit when their unsolicited, unwanted crap lands in the inbox of a woman who has had to undergo a mastectomy or other breast-related trauma? I long for the day that spammers are held accountable for their abhorrent actions, and finally have to face the consequences for the evil that they do.
• Quiz! Yesterday's "How well do you know Dave?" quiz is still open. I hope to dish out the answers tomorrow, but may have to wait until Tuesday if my Monday gets too crazy.
And just like that, one year of Bullet Sunday comes to a close.