So here I am in Spokane.
I'm assuming that I drove here, because when I look out my hotel-room window I see my car out there... but I have no recollection of the trip. The 3-hour drive is so mind-numbingly dull that I've apparently wiped it from my memory. Either that, or I was abducted by aliens along the way, and they were nice enough to transport my car here before giving me an anal probe and wiping my brain (or is that giving me a brain probe and wiping my ass? I dunno).
All I do know is that I am so tired now that catching up on blog reading tonight is out of the question...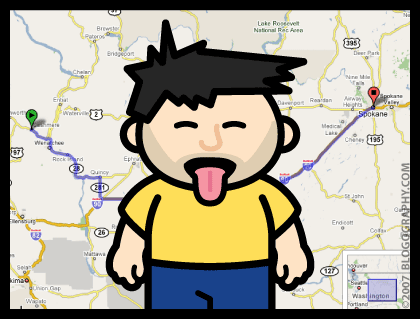 Thank you Google Maps!
The last thing I remember before mysteriously appearing in Spokane is working on my travel schedule. The funny thing is that I now know where I will be in December and January, but haven't a clue of what's going on until then. For all I know, I'm going to Budapest on Friday.
Actually, that would be kind of cool... I've always wanted to go to Budapest.