This morning I checked out of my hotel and began work for the day.
This evening I checked back into my hotel because work ran later than expected.
I'm thinking that this is probably a good thing, because I'm thoroughly exhausted. On top of that, I'm not as comfortable driving at night as I used to be, so spending three hours being stressed-out while tired is not my idea of a good time. Neither is falling asleep at the wheel, crossing over three lanes of traffic, going over a cliff, and exploding in a ball of fire.
As I was driving back to my hotel, I noticed that there's a full moon out and it looks amazing. It's so big in the sky that it actually looks a little bit scary. I ran up to my room, grabbed my camera, then ran back outside so I could take a photo. Except the effort was all for nothing, because my camera didn't manage to do the scene justice...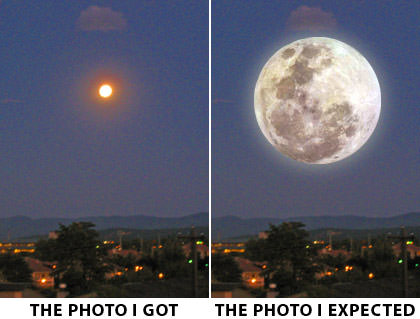 Oh well.
On my dinner break, I headed to the Gonzaga campus so I could have a slice of pizza at David's. Afterwards, I decided to walk down the street so I could see what the menu was like at Sonic Burrito. On the way back, I ran across a girl breaking up with her boyfriend. The guy was saying "don't do this... I don't know what I did, but I'm sorry! I'm sorry! I'm sorry!" Then she dropped the "INYIM" bomb ("It's Not You It's Me) and it was over. Having been in this exact situation, I could totally relate to the poor bastard, and found myself wondering if he was buying the whole INYIM excuse. Does anybody ever believe the INYIM excuse?
Life's a bitch.
Then she rips out your heart and stomps on it.
Gee... that sure sounded a little bitter.