Today at lunch I went back to the All-Candy Expo to take another look around... and to see Dale Earnhardt Jr. debut his new candy bars.
Not surprisingly, a lot of people were crowded around the booth.
What did surprise me was the name of the candy bars: "Big Mo." I guess that term doesn't mean what I thought it means? A Google search tells me that it's a nickname for his home town (Mooresville, NC) and that his racing team is called "Big Mo Posse."
The good news is that both his candy bars are darn tasty... they're back-to-basics caramel or peanut butter dipped in creamy milk chocolate. And they're a good size too! Dale himself seems like a really nice guy, and comes across as a down-home kind of person (which is refreshing given his superstar status). He even stuck around to answer questions from the audience, which was cool of him...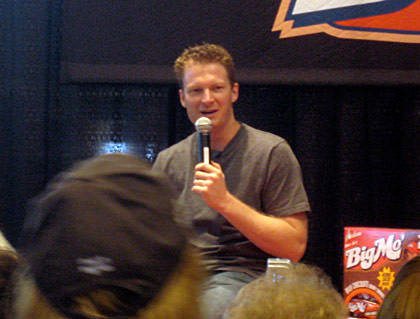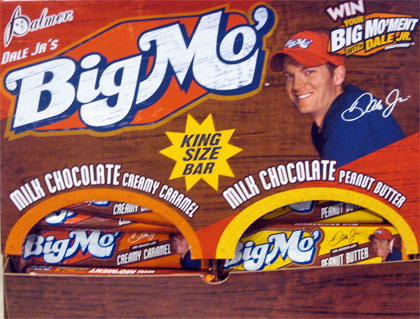 But the candy I MOST wanted to eat at the Palmer booth? PEANUT BUTTER PENGUIN PALS!!!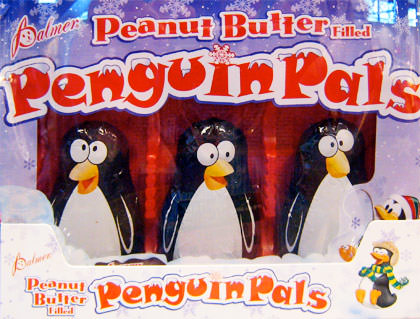 Coolest. Candies. Ever.
I would have liked to have stayed at the show for the rest of the day, but work was piling up so I had to go.
After working for a few hours, I took a quick break this afternoon to do something I haven't done since my first trip to Chicago 18 years ago... go to the top of the Sears Tower! I had re-watched Ferris Bueller last week, and was compelled to visit.
I will never go to the Sears Tower again. Nor will I recommend it to people.
Once you get there, they literally take you hostage. You are FORCED to sit and wait 15 minutes for a movie presentation that they MAKE you watch, as verified by a man and his wife who were in line behind me...
HOSTESS: Please enter the theater to watch a presentation before going up to the SkyDeck.
MAN: We don't want to watch a presentation... we just want to go to the top.
HOSTESS: It's a very nice presentation!
MAN: I'm sure, but we are in a hurry and don't want to watch it.
HOSTESS: It's only six minutes long, then you'll be on your way.
MAN: But we DON'T want to watch it!
HOSTESS: We'll get you up there! We'll get you up there!
MAN: Does ANYBODY here want to watch this presentation?
EVERYBODY: NOOOOOOOOO!
HOSTESS: Enjoy the presentation!
And, sure enough, you have to sit there six minutes to watch a video presentation. It wasn't bad, I guess, but you shouldn't be FORCED to watch the crap. If I had a choice of having to wait 15 minutes then sitting through an additional 6 minutes of the presentation... or just hopping in the elevator and going to the top of the Sears Tower, I would have skipped the presentation. To be honest, that's 21 minutes of my life I'd like to have back. NOTE TO SEARS TOWER MANAGEMENT: People don't like to pay to be held hostage. If somebody pays you $12.95 to go to the top of your building, LET THEM GO TO THE TOP OF YOUR BUILDING WITHOUT FORCING THEM TO WATCH SOMETHING THEY DON'T WANT TO SEE! Because that just makes you a bunch of assholes.
Sure the view from the top is nice, but I'd rather go to Hancock Tower, with a view just as good... and there they don't force you to watch a movie. On top of that, but they're $1.65 cheaper and have a better location.
Oh well, here was my trip to the Sears Tower...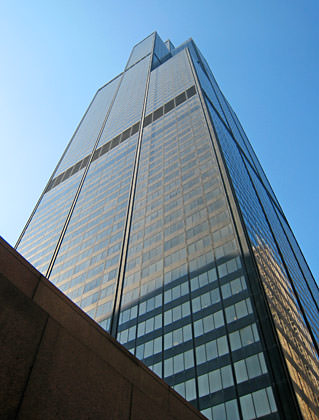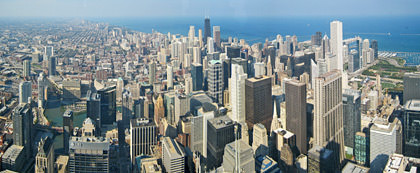 The tall black building in the center of the back skyline is "hostage-free" Hancock Tower, where I'd rather go for a view of chicago...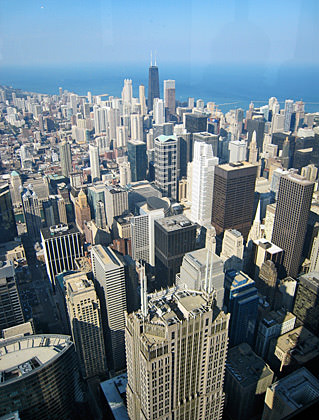 And thus ends my trip to Chicago. I think I'm back in November, but can't remember for sure.