The rest of my yesterday was uhhh... interesting. I've put it in an extended entry for anybody who wants to read what happens when you go off a restrictive diet and eat loads of fried foods.
Today I managed to spend some time at Chicago's All-Candy Expo. It's not as huge as the ISM show in Cologne Germany I attended in January, but it's still a pretty spectacular event if you like candies as much as I do. The coolest thing about the show is seeing the new stuff companies are coming out with, and how candy technology keeps advancing.
Anyway... when you arrive at the show, you are greeted by M&M's!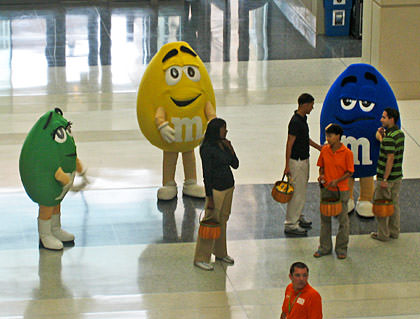 This is kind of cool, but not as cool as visiting the M&M booth where they will draw a caricature of you as an M&M. And even that isn't as cool as visiting the super-sweet M&M race car...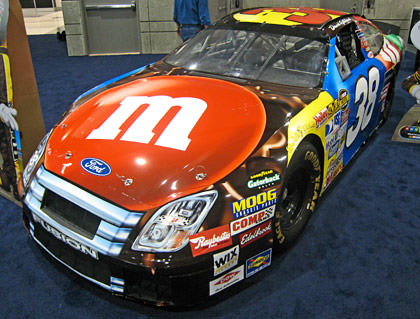 I especially like the tail-end of the car...

Not to be outdone, Snickers also has a race car at the show. And so does JUICYFRUIT!...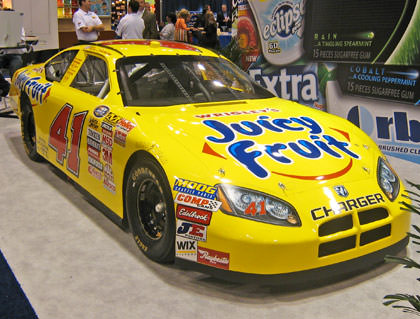 The All-Candy Expo is so big that it can be hard to decide where to start. I took a panorama of the show floor and it ended up being so big I couldn't fit it in a computer graphic, so I took three chunks of it and put them here. It's all candy, baby...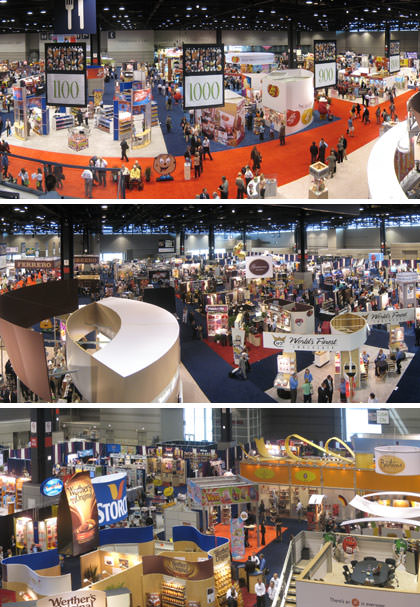 Well, not ALL candy. There are other snack foods there too. I saw a lot of beef jerky. In fact... "you might be a redneck if you own your own beef jerky company"...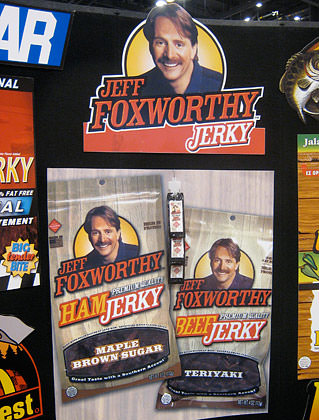 And then I saw that Steve Irwin was back from the dead to endorse Crocodile Hunter Chocolates (I've already said how I feel about the deceased endorsing products)...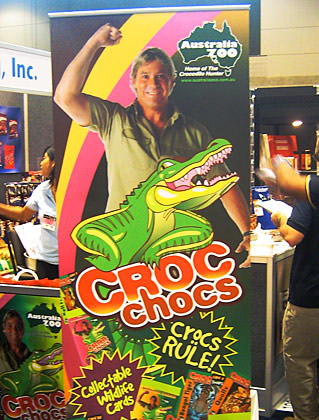 Some of the stranger stuff I saw was CARROT GUM! Yes, seriously, carrot bubble gum...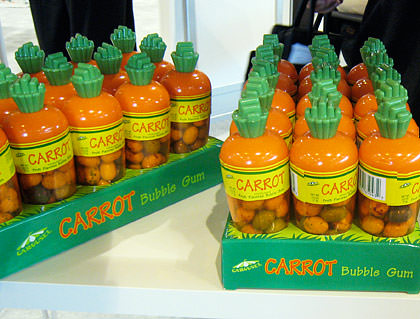 And Jesus Candy Canes ("Blessed is he who licks unto Him")...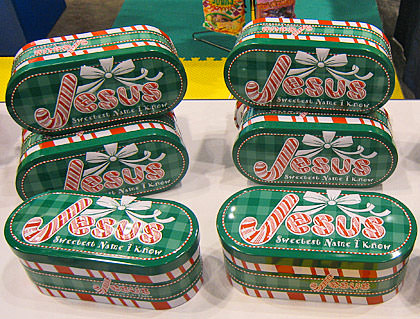 My most favorite new candy treat was GüdFüd's jelly or chocolate stuffed marshmallows. I can't eat them because I'm a vegetarian and they have gelatin in them, but they're probably the cutest candies ever...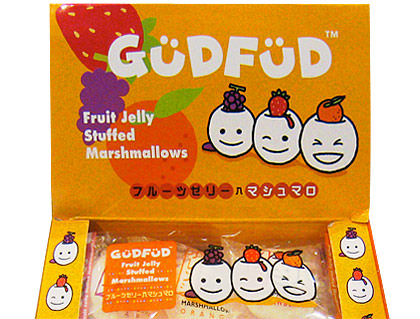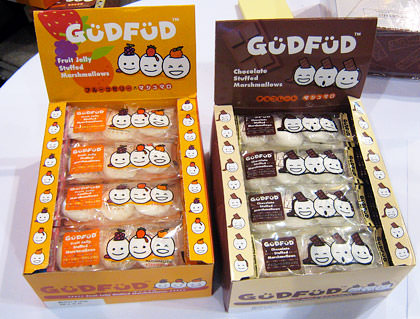 And, of course, PEZ was there. Gotta love PEZ! This time I saw that they have FUZZY PEZ!!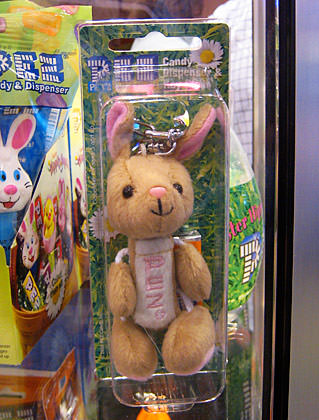 There was also a kind of Pez imitator of some kind. I didn't quite understand how they worked, but I especially like the Human Torch dispenser because of his funky flame-hair...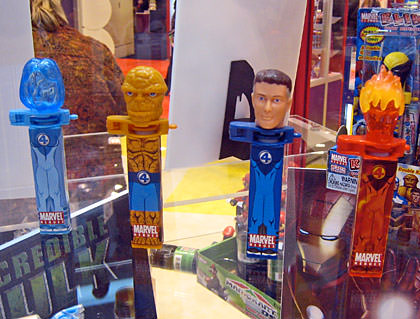 And, lastly, I bring you the Hello Kitty's Beauty Kit... filled with candy jewelry, candy makeup, and candy perfume...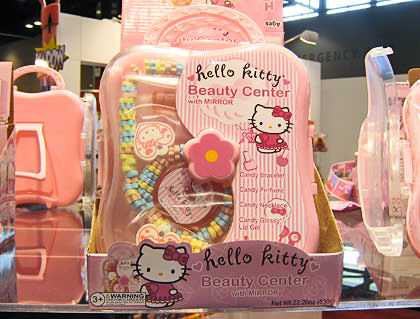 Hey, heaven only knows that I never look more beautiful than when I'm covered in candy!
And that's just a tiny slice of all the amazing stuff I saw while cruising the aisles of the All-Candy Expo this afternoon. What a delicious way to spend your day.
But back to yesterday evening...
I was nearly late to dinner because I noticed that there was a massive sale going on at one of my favorite stores...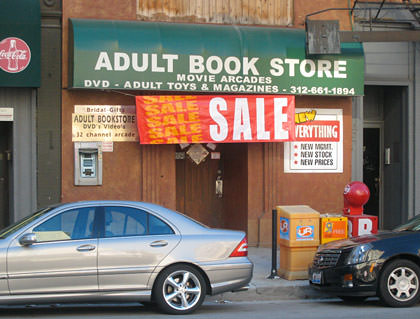 But once I made it to the restaurant, I had a great evening with my friends. Except I ate entirely too much of entirely the wrong things.
Helpful hint: if you've been on a restrictive diet for two weeks, breaking that diet by eating massive quantities of (probably) hydrogenated fats for dinner is not advised. The stuff moves through you very, very, quickly when you are not accustomed to eating it! I'm guessing my intestines have a bad memory and went "what the bloody hell is this?" then just let it go. I barely made it back to my hotel room in time.
Probably because I stopped at The Apple Store on my way back to take a look at the new iPod nano. This thing is unbelievably cool... so much smaller in the hand than you can imagine from looking at a photo... and so freakin' THIN! The screen, despite being tiny, is just amazing. I want one quite badly, even though I would rarely use it now that I have iPhone. It's just too sweet not to own one!
Oh yeah, back to my after-dinner intestinal woes... you just know you're in trouble when a double-dose of Imodium doesn't work. This was pretty much the rest of my evening...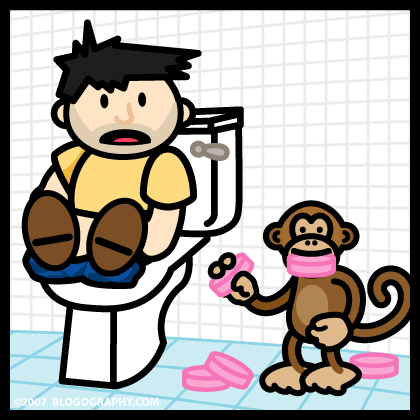 My digestive system finally returned to normal around midnight, which was a good thing because I had to get up at 4:30am to make an international call.
The End.
Because now I have to get some work done after goofing off at the candy show all day.