And I'm off to Chicago... again. Well, assuming that Horizon Air doesn't cancel my flight. Apparently some of the aircraft in Horizon's fleet have had a safety recall of the landing gear, and they've been canceling hundreds of flights throughout the week to do inspections. I'm told that ended yesterday, but I won't know for sure until I get to the airport. Fun.
For some reason, I had it in my head that I was returning home before my trip to L.A., and it wasn't until I printed my boarding pass that I realized I am flying direct to LAX once my work in Chicago is over. This caused a panic of an entirely new flavor, because I've got a lot of stuff to get ready before my trip to La La Land. Guess I won't be getting any sleep tonight after all.
In other news, I got a lovely comment this morning from some guy who was outraged because I dared "desecrate a classic" with a cartoon parody of Curious George I made last year...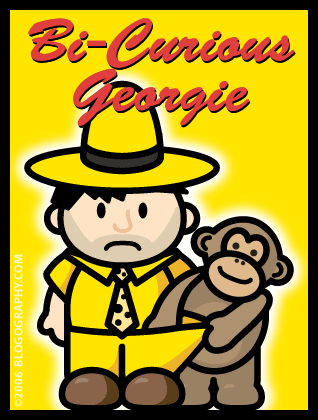 I find this ironic, because I'm about the biggest Curious George fan there is, and have been collecting Curious George books and toys for a very long time now. I guess I shouldn't be surprised... I mean, I've already got Kenny Chesney fans hating on me... and Harry Potter fans hating on me too... but Curious George?!? Seriously? I'd have thought my fellow George fans would have a better sense of humor about these things. He is, after all, a monkey.
Oh well. Back to work. Back to work.