I'm BS-ing my way to Chicago! Hmmm... it seems like just four Bullet Sundays ago, I was also on my way to Chicago. Oh, wait a second... it was four Bullet Sundays ago! I wonder what will go wrong this time...
• Safe... Well, I didn't get pulled over for speeding. That was a pleasant change from last time.
• Praise... Some guy behind me was told that his bag needed to be searched at airport security, and his response was to preach holy scripture at the TSA agent. This was kind of bad-ass, in a Samuel L. Jackson Pulp Fiction kind of way, but I didn't see how the passage was applicable. A Google Bible search on the parts of the quote I remember resulted in Colossians 2:8... "Beware lest any man spoil you through philosophy and vain deceit, after the tradition of men, after the rudiments of the world, and not after Christ." Does this mean Jesus is the only one allowed to search his luggage? Sadly, I don't think Christ has a day-job working for the TSA, so I guess this guy is out of luck.
• Prayer... And, of course, the same guy has to say a prayer as we're taking off ("Lord protect us on this journey...") which is no big deal... until some drunken woman starts laughing hysterically in the middle of it ("...we ask that you give our pilot the skill and knowledge to deliver us safely..."). I sit in my seat waiting for God to smite our plane in a ball of fire so as to destroy this drunken bitch for her blasphemous mirth, but it would seem as though He has a sense of humor about it all and we land in Seattle without incident ("...amen").
• Breakfast... For the first time in two weeks, I eat gluten by having a flour tortilla on my egg & potato wrap at Qdoba. I fully expect to explode any minute now.
• Borders... I filled iPhone with plenty of videos, so I don't really need a book, but decide to stop in at Borders anyway (out of habit?). There I notice that there is a new version of "1000 Places to See Before You Die" called "1000 Places to See Before You Die In the US and Canada." I suppose that this edition is for people who want to travel, but don't want to be inconvenienced by leaving North America, which I find to be opposite of what the original book was all about. But the most curious thing I saw in the book store was that Bad Monkey has inspired a novel!

I demand royalties!!
• Puppies! Seattle must be hosting a convention for the blind or something. As I sit here waiting for my flight, the inbound aircraft is exiting. Among the passengers are numerous seeing-eye dogs (with their owners) and people finding their way with white canes. It's a pretty cool sight (no pun intended). I love dogs, and wish that I was home often enough to have one. These dogs are especially nifty, and it's pretty heart-warming to see such dedicated animals making a better life for people.
• Retreat... Ah. One of the puppies (who I learn is named "Denver" from his owner) is sitting next to me. I find out that everybody was on a retreat to Victoria and Vancouver in Canada testing out GPS units for the blind. How cool is that? Denver was given some kibble to tide him over, and I volunteered my water so he could wash it down. He was given surprisingly little of it to drink, however. Though this probably because there's no place for a dog to pee on a plane. Hmmm... and why don't airplanes have lavatories for dogs?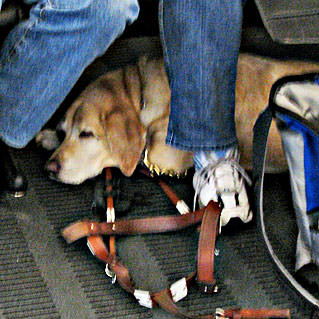 It's Denver! And he's hiding! Photo courtesy of the crappy camera on my iPhone
(heavily Photoshopped so as not to look like a smudgy blur).
• Access... Tell me... if humans are not allowed in the "Starter Override Access Hole," then who do they send in when the starter override needs overriding? Trained monkeys? This does not bode well, as monkeys make terrible mechanics.

Hey! Find another hole, buddy!
• Arrival... Both flights were on-time for departure and arrival? Stroke of luck or sign of the Apocalypse? Though my bag did take a half-hour to arrive at baggage claim, so I guess it all balances out in the end.
• Taxi... Get this. I'm waiting in line for a taxi because the line for the Airport Express shuttle is way too long. After about seven minutes, I finally get to the front of the line, only to have some woman jump ahead of me and try to take my cab! I yell "HEY! THERE'S A LINE HERE!!" to which the woman responds "yes, but I'm in a hurry!" Lovely. "WE'RE ALL IN A HURRY!!" I reply. She keeps trying to open the door on the taxi, but the driver has seen her cut in line and refuses to unlock it. Then the taxi queue guy comes walking up and asks the woman what she thinks she's doing. "I'm very late and there are people waiting for me!" she says. "Yes, but this gentleman is ahead of you!" the guy replies, pointing to me. "HE TOLD ME I COULD GO FIRST BECAUSE I'M IN A HURRY!!" she screeches. "NO I DID NOT!! YOU NEVER ASKED!" I scream back. What a fucking bitch. Had she ACTUALLY asked, I might have said okay... but to lie like that while I'm standing there just pisses me off. There's no way in hell she's getting my taxi now, so I walk up to the door, the driver unlocks it, and away I go while the bitch is left screaming on the curb. I congratulate myself on not slapping the shit out of her for being such an asshole.
• Navigation... Ooh! My taxi is one of those new-fangled cabs with a GPS map in it! Sweet! Now I can see where I am as we sit in traffic!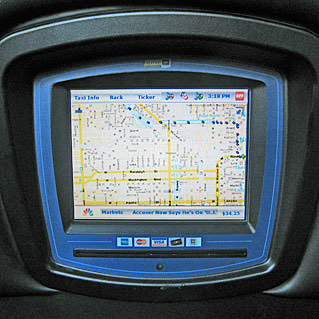 That will be $38.00 please!
• Hotel... And here I am in my hotel (which will remain undisclosed, because I have learned my lesson last time). It's not The Hard Rock Hotel where I usually stay, but is quite nice. The only problem is that they don't have wireless internet, and the ethernet cable won't reach from the desk to the bed. Bleh!
And now I will climb out of bed, go to the desk, hook up to the internet, and post this so I can take my leave of you. I am meeting friends for dinner, and don't want to have to jump in front of people at the taxi queue in order to arrive on time. I'm courteous like that.