Things may be a little strange around here for a few days. I am upgrading Blogography to Movable Type 4.0, and it will take some time for all the templates and stuff to be transitioned to the new format.
The decision to upgrade something that ain't broken is always a difficult one, but I need to start learning the new system in anticipation of clients who ask me to work with it. I had thought about creating a test-blog, but ultimately decided to just forge ahead with this one. Your motivation for learning something new is considerably higher if you have something at stake...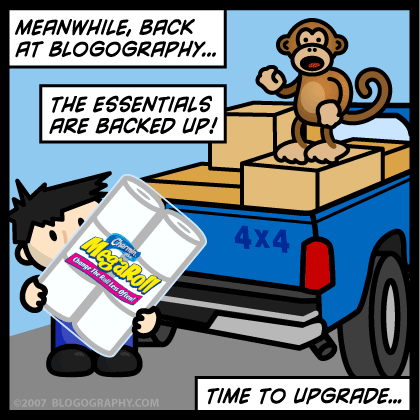 Here's hoping that I don't totally f#@% things up, because I don't have a lot of time before I have to leave again.
Say a prayer to the blog gods, because here I go...
UPDATE: Okay... who didn't say their prayers! Things are so f#@%ed up that you'd swear I had planned this crap. Not only won't anything publish properly, but MT4 is balls-slow. As in agonizingly balls-slow.
UPDATE: Oh shit! Shiiiiiiiiiiiit!!
UPDATE: Hmmm... uhhh... comments are working again. Notifications are slow, slow, slow to arrive though... much like everything else.
UPDATE: I kinda think that everything is working properly now. I had hoped to upgrade my templates to use some of the new MT4 features, but Movable Type's weak link has reared its ugly head once again... crappy documentation. You look up a tag that you want to use, and are presented with the bare minimum of information. No examples. No external references. Nothing. I would attempt to dissect the default templates to see how things work, but when you upgrade an existing installation (even to a clean directory), the default templates go missing. Any attempt to add a new template and copy over the defaults manually is defeated by missing links and modules that I can't seem to locate. Maybe when I have more time, I'll try again... but holy crap! This is VERSION 4 and there's STILL no frakin' documentation!! WTF? What good are new features if nobody can find out how to use them? Movable Type could be the greatest application in the universe, and it wouldn't mean shit because without good docs, who is going to want to work with it?