♫ Ahhh AHHHHHHH! He'll save every one of us! ♫
I finally got around to watching the Sci-Fi Channel's Flash Gordon show. I was really stoked for the series, which is why I was devastated to find out that it sucks ass. This is probably one of the worst television shows ever, and that's saying a lot. Not only is the writing complete and total shite, but the acting is horrendously bad and the special effects (what few of them they use) are laughable. I can't find a single thing worth praising on this trainwreck of a series, and am dumbfounded that Sci-Fi... who are supposed to be fans of good science fiction... would screw things up this badly.
Which begs the question... how could you possibly fuck up Flash Gordon? There's so much source material to work from.
I mean, come on, the crazy-cheesey 27-year-old movie staring Sam J. Jones, Melody Anderson, and Max von Sydow was sheer genius by comparison. I love that flick! Not only have I see the film dozens of times and purchased all iterations released that I could find (VHS, LaserDisc, DVD, Import Special Edition DVD, and Saviour of the Universe Edition DVD), I've also got the movie poster framed and hanging on my wall...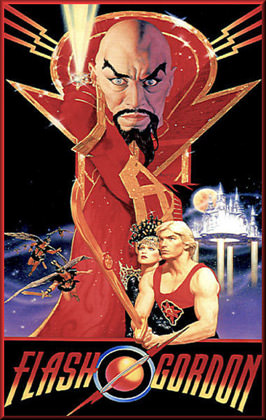 And here's the puzzler... the writing on this film was over-the-top, the acting was far from great, and the special effects weren't anything to write home about (though there was a musical score by Queen!). So why did the movie work, while the television show fails so miserably?
BECAUSE IT WAS ENTERTAINING!! Hell, I'd argue that the FIFTY year-old Black & White Buster Crabbe serials were more fun to watch that this shitty television atrocity!
In the movie, Flash was trying to save the entire earth. In the TV show, Flash was trying to find an iMac (or whatever). In the movie, Ming was a sadistically evil egomaniac. In the TV show, Ming is a whiny little bitch. In the movie, Dr. Zarkov is a brilliantly mad scientist. In the TV show, Dr. Zarkov is a bumbling idiot. In the movie, Aura is a brutally hot psychotic bitch. In the TV show, Aura is just plain boring. Much like the show itself... totally boring.
Flash Gordon fans deserve so much better.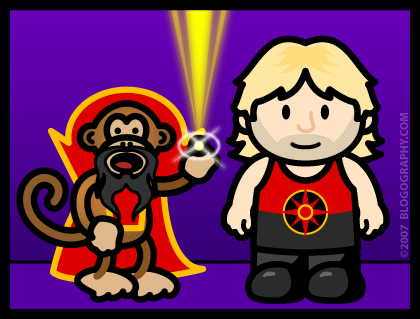 With even a little effort and creativity, a new Flash Gordon show could have been brilliant. I was counting on it being brilliant. Instead I was only setting myself up for disappointment.
Stupid Sci-Fi Channel bastards.