My work schedule keeps changing. One minute I've got two days before I start... the next minute I've got two hours. This makes any grand adventure out of the question, so I decided to just wander down toward Milwaukee and catch a movie or something.
But first, breakfast.
Since it was 11:30am before I got my work situation figured out, I missed my breakfast window of opportunity... but still wanted breakfast. Remembering that Cracker Barrel serves breakfast all day, I decide to see if there's a location near me. Thanks to iPhone, stuff like this is simple...
Wake up iPhone and select Google Maps.
Enter my location and press the "search" button.
Type in "Cracker Barrel" and press the "search" button.
And, just like that, iPhone pops up with the nearest Cracker Barrel down on County Line Road Q in Menomonee Falls (if Apple ever adds a GPS unit, that would eliminate step 2...hint, hint). Have I said how much I totally love my iPhone?
After a plate of eggs and corn bread muffins with a side of grits, I consult iPhone once again to see what movies are playing at the AMC down at the Mayfair Mall. Turns out that Superbad doesn't start until 1:40, so I decide to take a look at the new Apple Store at Bayshore Town Center in Glendale before I go. I have no idea where that is but, once again, iPhone comes to the rescue with detailed maps and driving directions, complete with traffic status. How did I ever get along in life without it?
The Glendale Apple Store is nice enough, but it turns out that Bayshore Town Center is a kind of elitist-fascist shopping area with a "Code of Conduct" posted at the entrances. Rules include "no congregating in groups of more than four people" and "no profanity" and "you must carry photo identification" and "no unauthorized photography." This kind of scary crap made me feel very much out of place and unwelcome, so I decided to bail. But not before screaming "FUCK YOU BAYSHORE TOWN CENTER" at the top of my lungs and taking this completely unauthorized photo of the Apple Store there...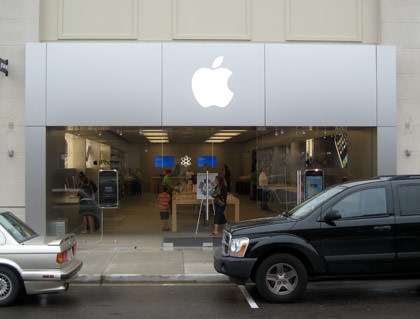 Surprisingly, this anti-conduct behavior did not cause a swarm of security guards to come beat me up and kick me out of Bayshore Town Center as I expected. It's too bad, because then I would have REALLY had something to blog about.
Then I was off to the much more sane and friendly Mayfair Mall, where I arrived just in time to see Superbad. Except not really. Once the twenty minutes of commercials, advertising, previews, and crap had aired, THEN I got to see the movie.
Superbad was pretty darn funny, and seeing Michael Cera on the big screen just makes me miss Arrested Development all the more. Oddly enough, however, I found the main story-line with Jonah Hill to be kind of annoying... it was the sub-plot with two cops played by Bill Hader (funnier here than he's ever been on Saturday Night Live) and Seth Rogen (who co-wrote Superbad) that completely stole the show for me. Funny, funny, stuff... McLovin.
Almost as funny as when I went to pick up my rental car yesterday and saw that two guys had decided to ignore the warning signs, arrows, and big-ass spikes so they could exit through the entrance gate...
I hope that they purchased the full insurance coverage option on their rental. But I'm guessing that they probably didn't, because once I got inside I noticed them in a heated discussion with the manager. I think that they were actually trying to blame him for their mistake, so good luck with that guys!
And now I'm at work. But I can't hook my laptop up to internet here for some reason, so heaven only knows when I'll get to post this (my schedule has me working straight through until 9:00am). Bleh. Maybe I can escape for a midnight "lunch break" or something.
UPDATE: And so I run back to my hotel where I will have internet to post this, and decide to stop at McDonald's for a large fries and a chocolate shake. But when I get to my room and open the bag, I see that my large fries is only HALF-FULL!!! Frickin' rip-off McDonald's bastards! Is nothing sacred?