This morning I sat in my O'Hare hotel room staring at the traffic updates on my iPhone. The route into the city was flashing a lethal-looking red, so I figured there wasn't much point in leaving until the roads opened up. Otherwise, I'd just be paying for a taxi to sit in traffic as the meter racked up an already-huge fare.
Eventually around 11:00, there was enough green showing on the traffic monitor that I decided to head into the city and check-in to my hotel.
The first thing I did when I got to my room was throw open the window. It was a glorious day and, unlike most hotels, the windows here are not limited to opening just a few inches (I guess they're not worried about suicide jumpers). It's hot outside, with a few scattered clouds and beautiful blue skies...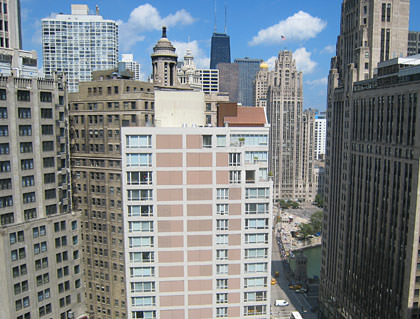 While soaking up the atmosphere, something blows up against me and I look down to see this little card sitting in the window sill...
WTF?!? Beware of the spiders? SPIDERS?!?!
Then I look outside the window pane and see that, sure enough, there's little spider webs all over the building exterior. Then it hits me... GAH!! SPIDERS!!!
I think my worst nightmare would be to wake up in the middle of the night, notice that there's a strange tickling sensation on my face, then turn on the lights only to discover that my bed was covered in spiders. So, uhhh... yeah... we'll just close the windows and enjoy the view that way.
Around 1:30 I went to have lunch with a good friend and ex-coworker I haven't seen in a while. Everywhere I looked it was absolutely beautiful out, so we decided to eat outside. The heat was pretty intense, but an occasional breeze made things bearable. An hour-and-a-half later, lunch was over and I decided to head back to my hotel and catch up on some work. It was noticeably darker out, and I saw that additional clouds had started rolling in...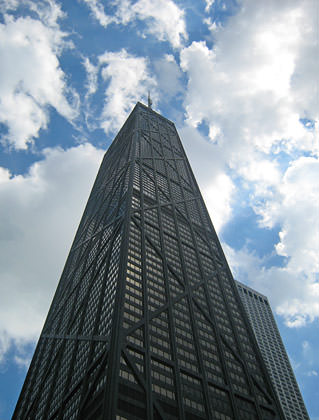 By the time I actually made it to the hotel, the weather was positively grim. Thunder was echoing in the distance, and rain had started to fall. The scene out my window just two hours after the first photo above had been taken was quite a bit different now...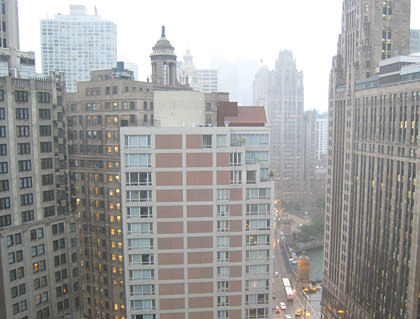 Oooh! And there goes massive lightning flashes with thunder so loud that my windows are shaking. Sweet! You can't tell by the photo, but the rain is actually falling sideways. And the sky just keeps getting darker and darker, so I'm not sure what we're in for here in The Windy City. I'm guessing it's an alien invasion.
Maybe I should just crawl under the covers and try not to think of what might happen. After all, now that I have the spiders crawling around in my mind, do I really need something else to worry about?