Bee-Boop!
It's a sound I remember well. A sound I loathe with every fiber of my being. A sound I thought that I had eliminated from my life forever.
Bee-Boop!
It's that annoying sound that a Motorola mobile phone makes when the battery is running low. Last night some dumbass in the room next to mine left his dying phone behind while he was away. I can only imagine that he was out banging some crack whore, and didn't want the inconvenience of having his wife call while he's acquiring his latest STD (why else leave your mobile behind?).
Bee-Boop!
Meanwhile, I had to try and work while that stupid mobile phone kept begging for somebody to charge it. Eventually I cranked up my iPod so I wouldn't hear it, but that's not the way I work best. I need silence.
Bee-Boop!
The owner eventually returned around 10:40pm... but waited an agonizing ten minutes before plugging-in his phone (sorry buddy, but washing your dick in the sink is no substitute for a shot of penicillin). Silence was mine at last, and I started in on my work once again, confident that my troubles were over.
I would be wrong, of course.
Around 1:30am I was beyond tired and decided to finally drop into bed. I took a couple of sleeping pills, hoping that I might be able to sleep-in late and get a full eight hours rest for once. Heaven only knows I need it after a week of not getting much sleep at all.
But the phone rang at 7:00am, waking me from a dead-sleep...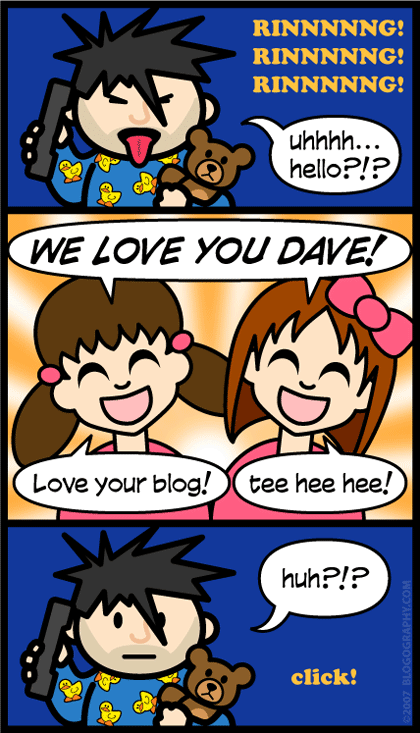 Since they hung-up on me, I'll now take a minute to respond...
Dear Anonymous Blogography Fan Callers,

Thank you so much for your phone call bright and early this morning at 7:00am! I cannot help but be touched. It's people like you who make my blogging experience all the more satisfying and worthwhile. By taking the time to let me know just how much you care, I'm even more inspired to keep writing in my blog. Your enthusiasm and kind words are a beacon of light in the darkness of my existence, and I am ever so grateful to you for sharing your feelings with me!

Love You!
Dave2
And one more thing before I forget...
After napping for a couple more hours, I had to go out most of the day for work. Around 2:00 it was scorching, and I decided to take a break from the heat. I bought a bottle of Vitamin Water and took a seat in front of an office building where they were kind enough to put benches around a large planter. While I was sitting there, I looked down and noticed a small worm struggling on the hot sidewalk. It had rained earlier, which probably drew him out of hiding, but now all the moisture had evaporated leaving him high and dry. I was pretty sure the little guy was a goner, but I kicked him aside, picked him up, then set him in the planter under the shade of some greenery. Maybe he would get lucky and recover.
A woman sitting two seats away from me was talking on her mobile phone loud enough for me to overhear her disgust as she said "Gross! Some guy just picked a WORM up off the STREET!!" I immediately turned towards her and said "Don't worry, if you were to collapse dying on the sidewalk right now, I wouldn't lift a finger to help YOU out."
Then I walked away mad at myself because I knew that I undoubtedly would help the bitch if she collapsed on the sidewalk.
But I'd "accidentally" step on her mobile phone and smash it into a million pieces while I was trying to save her hater ass. Karma, and all that...