So there I was minding my own business, trying to decide which flavor of popsicle I wanted for dinner last night, when my mobile started ringing. This made me happy, because iPhone is still new enough that it's funky maramba ringtone gives me a shudder of delight whenever I hear it.
At least until I look and see that it's a "Number Blocked" call, at which time I have to decide whether or not I am going to answer it. Odds are, it's going to be a wrong number or somebody I don't want to talk to, otherwise they're number would be in my phone. Seeing that the only flavor of popsicle left is dreaded CHERRY, I close the freezer door and answer the call...
DAVE: "Hello?"
GUY: "Hey, did you lose your bag?"
DAVE: "Huh?" I say, looking over at my backpack on the kitchen table.
GUY: "I found this bag and there's no name in it... just this number on a paper. Is it yours?"
DAVE: "Ah. No, my bag is here with me. Where did you find it? What's it look like?"
GUY: (describes bag and location)
DAVE: "Sorry, I don't know anybody who has a bag like that. What's in it?
GUY: "Uhhh... like a sports bra type-thing, socks, ladies running shoes, and..."
DAVE: "Wait a second... you thought this bag was MINE?"
GUY: "Hey, I don't know what stuff you're into..."
As I stood there with what's left of my manhood fleeing the scene, the guy says "this six could be a zero" and hangs up. I then start thinking of any attractive lady joggers I might have given my number to, realize I haven't given my number to a woman in years, then open up the freezer and grab a cherry popsicle I know I won't enjoy.
Somehow it seemed appropriate.
In other news, I finally caught up on my television tonight.
Isn't Gabrielle Anwar totally scrumptrellescent in Burn Notice?
For those not watching one of my favorite shows on television, Burn Notice is kind of like a dirtier version of MacGyver with more guns and overall nastiness. And it's got Gabrielle Anwar playing ex-IRA operative Fiona Glenanne, which is really all you need to know. What's amazing about her character is that she's totally raw, wears minimal makeup, and looks kinda rough. But she still manages to come off totally hot...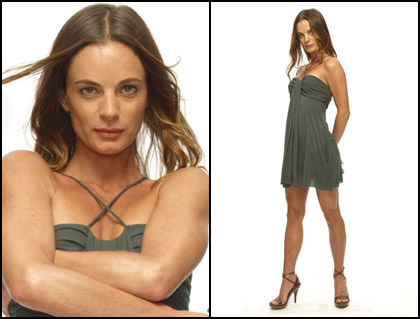 It must be the way she kicks ass and is always wanting to shoot everybody.
Or, more likely it's her body, which is fantastic. I would totally give her my number. Lucky for all of us that Burn Notice has been given a 13-episode second season order. Thank you USA Network!
Now I must get back to work.
And decide if I want to eat the last yucky cherry popsicle.
=sigh=