My first trip to Paris was an accident.
My brother and I had just returned to London from a trip up to Scotland. When we arrived, the weather was miserable, and neither one of us felt much like running around the city in the rain, fog, and cold. Stopping in an internet cafe, we were going to look through Frommer's Online to find something interesting to do indoors, when I accidentally clicked on France instead of England in the little European navigation map. "Hey, you want to go to Paris?" I asked. "Okay" said my brother. So we booked a hotel on Expedia and off we went to the train station.
Three hours later, we were wandering around the streets of Paris trying to remember what hotel we had booked. Since neither one of us understood a word of French, this was not an easy prospect. All the hotel names sounded the same. We ended up having to call back home to my mother, wake her up, and have her go to Expedia and tell us the name and address of the "third hotel down the list on the fourth page" ("PARIS? WHAT ARE YOU DOING IN PARIS??") Of course, since we had not planned to visit Paris, this information didn't do us much good. We had no map and no way of knowing where the hotel actually was. Fortunately, the natives were very patient and friendly in helping us find it... a tiny little place with a view of the Eiffel Tower (if you stuck your head out the window and looked 90-degrees to the right).
For two days, we bummed around Paris, hitting all the touristy spots... The Eiffel Tower... Notre Dame... The Louvre... and even the Arc de Triomphe...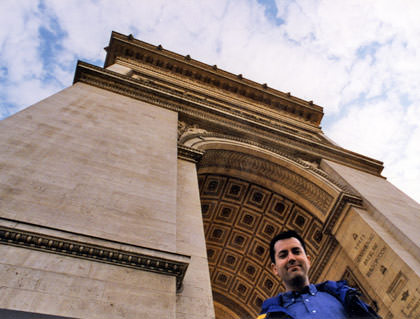 Photo by my brother, a far better photographer than I will ever be.
The visit was all too brief, but I fell in love with Paris and vowed to return.
Which I did the following year. But this time, I studied a Pimsler French course for three months before the trip. Speaking the language made my visit much more enjoyable, and I had four whole days to visit as many museums as I could manage before returning to London. A few years after that, I was in Germany and decided to meet up with a friend in Paris. My French skills had faded, but I could still manage to ask for directions and carry on a simple conversation.
The last time I was in Paris four years ago, I was dismayed to learn that my French skills were completely gone. I could barely manage to say "hello." When I got back, I immediately started listening to my Pimsler course again in an attempt to remember what meager French I had forgotten.
Fast forward to last week, and Laurence over at Bee Happy asks me to guest-blog for a day while she is on vacation. In a bold move, I decide to write my entry in French...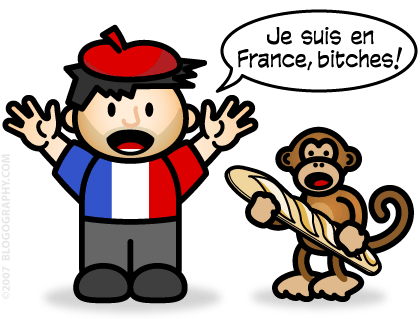 Two hours with my French dictionary (and absolutely no recollection as to how to construct a sentence) resulted in... something. Hopefully it's at least a little close to what I was wanting to say. My greatest fear is that I've mistranslated the text, and somehow end up insulting all of France. Since I would very much like visit again one day, the last thing I want is to be banned from the country over my crude French skills.
UPDATE: Laurence has shut down her blog, but I was able to find an archived copy of my entry. If you understand French, the original "Bad French" version is below, so keep reading.
If you don't speak French, Google can (kind of) translate my crappy attempt at French by clicking here.
Je ne suis pas Laurence. Mon nom est Dave2, et je t'apporte des salutations d'Amérique! Ma maison est dans une petite ville dans l'état de Washington. La région est celebre pour les pommes et le vin (le sol et la latitude est semblable a La vallée de la Loire)...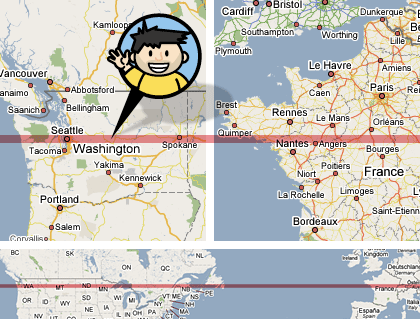 En France j'ai visité seulement Paris. Pouvez vous deviner ma chose preferée au sujet de Paris?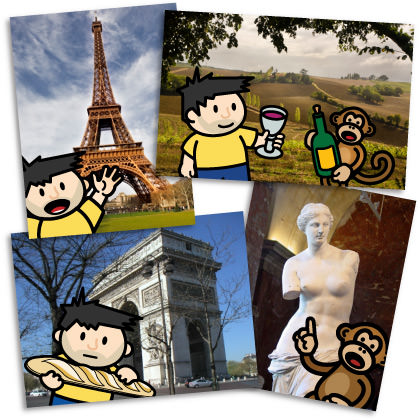 Mon favori est il le Tour Eiffel? Non. Le Tour Eiffel est merveilleux, mais ce n'est pas mon favori.
Mon favori est il le vin? Non. Le vin est incroyable, mais ce n'est pas mon favori.
Mon favori est il le pain et le fromage? Non. Le pain et le fromage est délicieux, mais ce n'est pas mon favori.
Mon favori est il les musées? Non. Les musées est beau, mais ce n'est pas mon favori.
Qu'est ce que c'est? Qu'est ce est ma chose preferée? Pouvez vous deviner? Non? Je vous dirai!
Mon favori est les waffles! Oui, les gaufres!!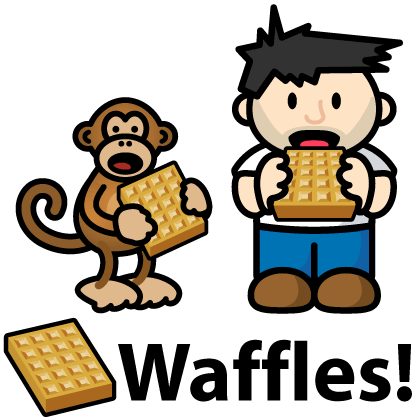 Près du Tour Eiffel est un marchand. Il vend les waffles délicieux et je les adore...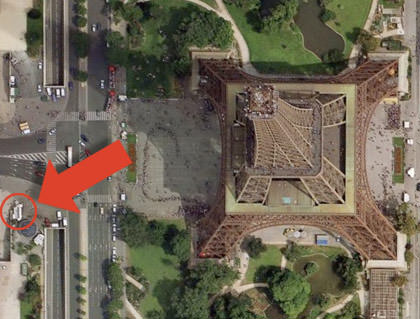 Naturellement je peux obtenir des waffles aux Etats-Unis, mais elles goûtent meilleures à Paris!
J'aime marche le long La Seine à Paris au printemps tout en mangeant une waffle avec du sucre. C'est la meilleure chose au monde. Un jour je voudrais retour en France et voir plus du pays. Et pratiquer mon français (ce qui n'est pas très bon).
Mais d'abord je dois acheter une waffle à Paris!
Au revoir!
Dave2 de Blogography