One of the things that I find so fascinating about the internet is the way it breaks down barriers. No longer is the world out of reach... now you can visit far away places and make friends in foreign lands from the comfort of your own home. Lines on a map and political barriers disappear. And, as if that weren't enough, online language tools can even eliminate language barriers.
Well, kind of.
Every once in a while, I check my error logs to see if there are any bad links I need to fix, pages missing, or anything else that makes Blogography a poor experience for my visitors. While I'm there, I also like to take a look at popular links to see where people are going. And every time I look, I see more and more translation links showing up. Visitors are regularly translating my pages into foreign languages, and I find that very cool.
But today I actually took the time to see what they were translating.
And now I'm freaking out just a little bit.
The most translated entries all seem to be the most bizarre.
Take for instance my entry from June 28th, which has been translated numerous times in various languages. I'm guessing it's a popular search result with foreigners because I am bitching about the Bush administration not addressing the "Downing Street Memo" or doing anything to explain the "apparently false" pretenses that sent us to war. No big deal. BUT later in the same entry, I have this freaky rant against all the news coverage of people finding body parts in their fast food. And, to make my point, I decide to invent my OWN "body part in food scenario" -- the Penis Salad.
In my native English, it's a little disturbing. And the fact I felt the need to draw a cartoon to illustrate matters doesn't help much...
Original English
"Uhhh... excuse me, but the menu said nothing about chopped penis in my garden salad, and I'm a vegetarian."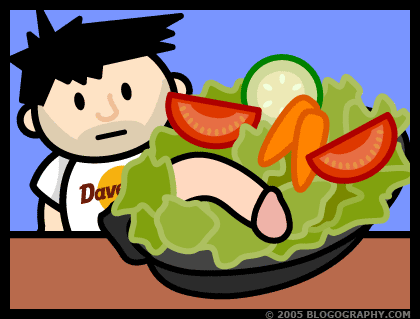 I was immediately curious to know how this translated into other tongues. So I used online translators (like Google's) to see what happens. I then take the result and translate it back into English...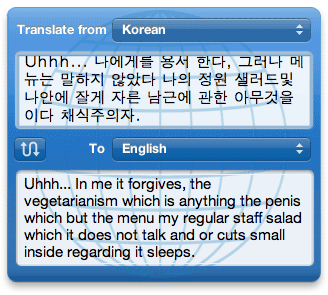 Some of the translations are not so bad (though "penis" has become a proper noun for some reason?)...
German
Uhhh... entschuldigen mich, aber das Menü sagte nichts über gehackten Penis in meinem Gartensalat und mich sind ein Vegetarier.
"Uhhh... excuse me, but the menu did not say anything about chopped Penis in my garden salad and in me is a vegetarian."
But other translations are downright frightening...
Korean
Uhhh... 나에게를 용서 한다, 그러나 메뉴 말하지않았다 나의 정원 샐러드안에 잘게 자 른 남근에 관한 아무것을,및 나는 이다 채식주의자.
"Uhhh... In me it forgives, the vegetarianism which is anything the penis which but the menu my regular staff salad which it does not talk and or cuts small inside regarding it sleeps."
Still other translations vary in quality... from strange to incomprehensible...
French
Uhhh... m'excusent, mais le menu n'a indiqué rien sur le pénis coupé dans ma salade de jardin, et moi suis un végétarien.
"Uhhh... excuse me, but the menu did not indicate anything on the penis cut in my salad garden, and me am a vegetarian."
Spanish
Uhhh... me excusa, pero el menú no dijo nada sobre el pene tajado en mi ensalada del jardín, y mí es un vegetariano.
"Uhhh... excuses to me, but the menu did not say anything on the penis sheer in my salad of the garden, and me he is a vegetarian."
Italian
Uhhh... lo scusa, ma il menu non ha detto niente circa il penis tagliato nella mia insalata del giardino ed in io sono un vegetariano.
"Uhhh... the excuse, but the menu he has not said nothing approximately the penis cut in my insalata one of the garden and in I am a vegetarian."
Portuguese
Uhhh... desculpa-me, mas o menu não disse nada sobre o penis chopped em meu salad do jardim, e no mim é um vegetariano.
"Uhhh... forgives me, but the menu did not say nothing on the penis chopped in mine salad of the garden, and in me it is a vegetarian."
Japanese
Uhhh... 私を許すが, メニューは 言わなかった私の庭サラダ及び私の切り刻まれた陰茎についての 何もである菜食主義者。
"Uhhh... I am permitted, but, the menu word trap concerning the penis where my garden salad which is applied is chopped up what, and the vegetarian where am I."
Chinese
Uhhh... 劳驾, 但这份菜单认为无事关于被砍的阴茎在 我的庭院沙拉, 和我是素食主义者。
"Uhhh... excuse me, but this menu thought the safe about the penis which chops in mine garden salad, with me is the vegetarianism."
Swedish
Uhhh. förlåta mig, utom menyn sa ingenting omkring hacket penis i min trädgård sallad, och Jag er en vegetarian.
"Uhhh. excuse me, except menu said nothing about chip penis in my time garden salad, and I'm a vegetarian."
Icelandic
Uhhh. afsakið, en the matseðill ómerkingur óður í kjötöxi getnaðarlimur í minn garður salat, og Myndað af I am a grænmetisæta.
"Uhhh. excuse me, while the menu nobody crazy about cleaver phallus into my park tossed salad, and Alluvial with I am a vegetarian."
Welsh
Uhhh. ddiheura 'm, namyn 'r ddewislen eb ddim am faledig penis i mewn 'm ardda salad, a fi m a vegetarian.
"Uhhh. I excuse' ores, except' group menu said anything about ground was miscarrying in' ores I plow worst, I go I ores I go vegetarian."
So much for knocking down barriers. I'm fairly certain that I'm setting back foreign relations a hundred years all by myself.
Oops.
I guess when the Welsh declare war on the United States, I have nobody to blame but myself.
CHAPTER 23: It's Beginning to Burn a Lot Like Christmas.
LEGO ADVENT CALENDAR TOY OF THE DAY: Pizza Oven and Cook's Paddle.

Lego Dave has finally caught up to the evil Lego Buzz, but things are looking grim for our hero as he is about to be beaten to death with a frying pan...

"Time to die!" shouts Lego Buzz as he moves in for the kill with his cookware.
"Barky, I've failed you!" Lego Dave says despondently. "Forgive me!"

As he backs away from Lego Buzz and the cast-iron skillet of death, Lego Dave suddenly finds himself backed against the pizza oven. Out of desperation, he starts flailing wildly... searching for anything to defend himself with.

Miraculously, his hand soon finds itself grasping the pizza oven cooking paddle. With all his strength, he whirls the paddle in the air and catches Lego Buzz's chin in a vicious uppercut, knocking him to the floor!

"ARRRGH!" screeches Lego Buzz. "You'll pay for that!"

But Lego Dave is undeterred. Gathering all his strength, he circles around the evil Lego Buzz and strikes him with all his might. The force is enough to send Lego Buzz flying forward... right into the mouth of the oven! With a roar, the oven erupts with a violent burst of fire, consuming Lego Buzz in an a flaming inferno!

Within moments, the screaming subsides, and Lego Buzz's body goes limp...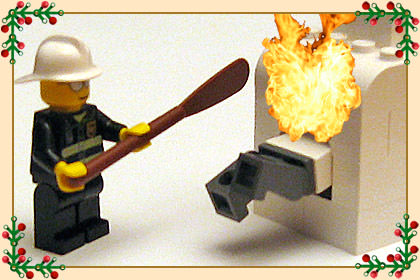 "At last... he's gone." says Lego Dave with a sigh. "Rest in peace Barky, my best friend."

And then, just as Lego Dave is catching his breath, a dark, menacing voice resonates through the air...

"I'd like my hand back, if you don't mind."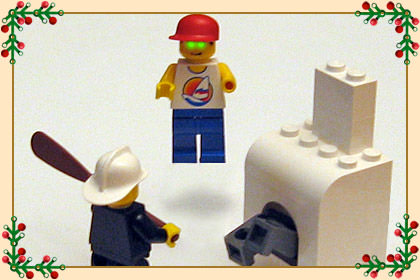 Holy crap! It's Lego Buzz Junior... FLYING IN THE AIR! What could this possibly mean?

FIND OUT TOMORROW WHEN DAVE'S "A VERY LEGO HOLIDAY TALE" FINALLY CONCLUDES!