When you find yourself driving between Chicago and Milwaukee time after time after time, you're always looking for something new and interesting to do. Today after work had FINALLY finished, I was planning on visiting America's Black Holocaust Museum in Milwaukee, only to find out that they were closed for "summer break." To which I can only say "WTF?!?" Summer is when the most people take their vacation time and can visit your museum! Oh well. I guess I'll be saving that one for another trip.
With the museum out of the picture, I consulted a page of notes I keep about things to do in the Milwaukee and Chicago area. It's an ever-growing list of stuff I run across in magazines, web sites, or TV shows that sound like something I might enjoy. Buried in middle of the list was a single link and these words...
Wilmette Bahá'í - Timothy.
And that's when I remembered that Timothy had written about a wonderful visit to the Bahá'í Temple in Uganda, and had mentioned that there was another north of Chicago. So, after consulting iPhone for an address and directions, off I went.
And what a sweet decision that was. The Bahá'í House of Worship (Mashriqu'l-Adhkár in the original Arabic) was completed in 1953, and is an extraordinarily beautiful building that has to be seen to be belived...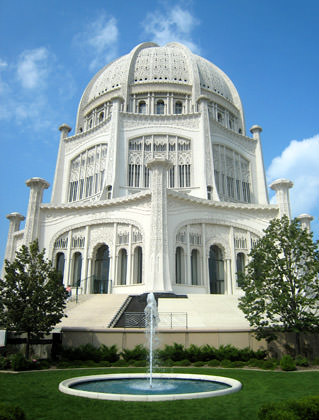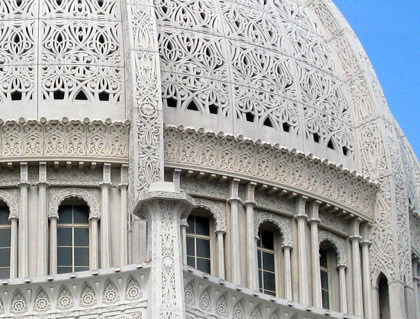 You can't take photographs inside, but the ornate carvings continue once you enter the building. The dome is a remarkable piece of architecture because those carvings go all the way through, making it particularly beautiful as the light streams through the holes. The building itself is open to the public (no admission fee), and is meant to be a peaceful place for people of all faiths to come and pray or meditate.
I have a fleeting knowlege of the Bahá'í Faith because some friends I know are followers. In many ways, it's a nifty religion, attempting to unify different faiths by looking at them as manifestations of the same single God. This means that divine religious figures such as Jesus, Buddha, and Muhammad, all come from the same place and are teaching different aspects of a single religion. This principle is so important that symbols of these other religions are carved on the outside columns...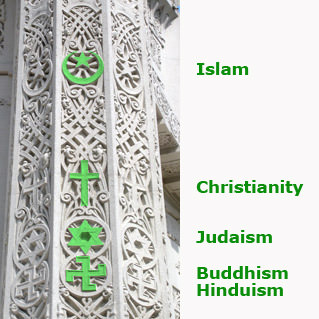 (And, just because there's always somebody dying to make a smart-assed remark about Buddhists being Nazis, I should post a reminder that the swastika was used as a religious symbol in Hindu and Buddhist faiths thousands of years before Hitler was even born, and is used even today to mark Buddhist temples on maps in Asian countries).
There are currently seven Bahá'í Houses of Worship world-wide... Wilmette, USA - Kampala, Uganda - Sydney, Australia - Frankfurt, Germany - Panama City, Panama - Tiapapata, Samoa - Delhi, India (which is the most visited buildings in the world, and widely regarded as one of the most beautiful structures created). I can't help but wonder if I should make future travel plans around visiting all of them? Heaven only knows they are located in some interesting places.
And now, a few random bits to close out the day...
Lightning storms were so bad last night that the power went off at 4:00am this morning, right in the middle of work. This delayed my already-delayed project another three hours, which meant I got next to NO sleep over a 38-hour period. Good times.
Hating is bad, and I try very hard not to hate anybody or anything. That being said, I hate, hate, HATE hotels that have a check-out time earlier than 12:00 noon. HATE THEM!! I don't care how many stars you have or how highly you are rated, if you ask people to check-out before noon, you are a crappy hotel. Sadly, this is a growing trend, and more and more hotels are adopting this horrible policy. What's next... somebody breaks into your room at 8:00am and tosses you out the window?
When I checked out of my hotel in Wisconsin, I was sure to get some dollar bills so I had money for the highway tolls. This was great, until I found out my exit has an unattended plaza which claims to have a CASH lane, but only accepts COINS. With no warning and no way of turning around, all I could do was toss in the only coins I had... 65¢... and continue onward. When I got to my hotel, I was going to look up a phone number on the internet so I could find out how to avoid being arrested, and instead found that you can pay a missed toll online. Sweet!
But I'm still pissed. If an exit only accepts coins... WHY NOT WARN PEOPLE BEFORE THEY EXIT, YOU DUMBASSES!!
I was nearly wiped off the road when a semi truck decided to turn into my lane, apparently not seeing that I was already there. My only option was to speed up as fast as I could so I could slip into a hole in left-lane traffic before he hit me. Despite the fact that I was honking my horn, he never once veered from his course, and didn't even look at me as I passed. Scary.
So iPhone is not perfect after all. After you use Google Maps for an extended period of time, it will start crashing with increasing frequency any time you try to access a map. Also, iPhone forgets where you last were on a map when it crashes, meaning you have to start all over again. Lame! I finally solved this by re-booting, but it's pretty annoying to have to do this at a critical time when you are relying on having a map handy.
As I was fighting nasty traffic all the way back to O'Hare International, I looked over and saw a man driving with his lap full of dogs... there must have been at least three of them. They were all jumping around and going crazy as he was trying to drive, and I kept waiting for him to lose control and plow into me. Just when think that people can't get anymore stupid, something like this proves me wrong.
And I guess that's my Wednesday. Now, if you will excuse me, I think I will lapse into a coma.