Ohmygawwwwd!
I've been desperately trying to get caught up with the massive pile of work that accumulated while I was away last week. This involves me working from the minute I get up every morning until a pass out from exhaustion every night. Ordinarily, such unending torture would be bad enough... but this morning things became further complicated when I awoke with "severe intestinal distress." A disappointing development to be sure, but I've got pills to fix such horrors.
Except the pills didn't work.
At least not completely.
Which meant on top of my huge load of work, there was another potential huge load to worry about all day...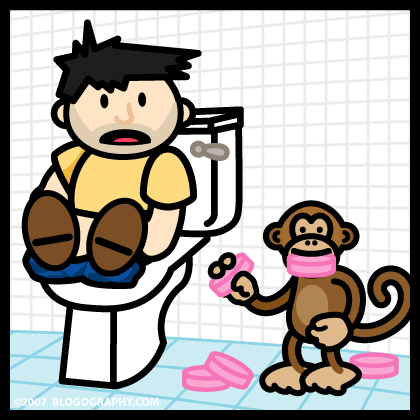 I'm afraid to speculate as to what might happen next. Am I going to wake up tomorrow and start projectile vomiting? I'm sure if it's contagious and will make my work day even more miserable and unproductive, I'll come down with it.
Bleh. This is the second time I've been inexplicably afflicted this year. I can only guess that my colon is finally starting to stage some kind of rebellion against my love of chocolate pudding.
Stupid colon.
Is it too much to hope that this is the Norwalk virus, a parasitical infection, or some other kind of non-chocolate-pudding-related ailment?