I am a total Apple whore, because Apple has actually earned my unwavering love and devotion over the years. I love their high-quality products, think they've created the best computer user experience on earth, and never think twice about buying their stuff because it always exceeds my every expectation. Until something went terribly wrong.
I am not a big fan of bluetooth headsets, especially when they're being worn around when no phone call is taking place. As I've mentioned, I think it makes people look like they're a Star Trek Borg or a Giant Dick...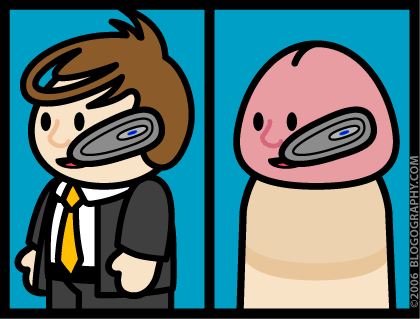 But they are handy to have when you are taking a long drive, and so I went ahead and bought Apple's specialty headset for my iPhone. It's pricey... $129... but I figure it's worth it if it will allow me to be safer while on the road. The unit was on back-order for several weeks, but finally arrived yesterday.
If I were reviewing Apple's iPhone Bluetooth Headset, I could sum up my experience in four words... Steaming Pile Of Shit.
Seriously. Worst. Apple. Experience. Ever...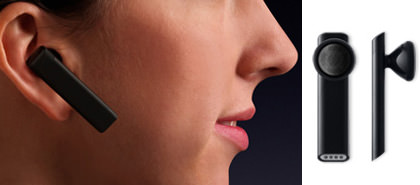 When it arrived, I followed the instructions and "paired" the headset with my phone by using the included charging cradle. It's all very cool, because the iPhone then displays the battery level of both itself and the headset. Except the pairing doesn't work. I would pair them, even confirm they were paired in the iPhone settings, but nothing works. The phone would route sound to the headset, but no sound would come out.
Referring to the inadequate documentation, I followed all the steps they offered... unpairing/re-pairing. Resetting the phone. Turning settings off and on. Blah blah blah blah. Eventually, some magical combination got the headphone working, even though the sound quality was not very good. Even worse, the unit does not fit in my ear very well (even with the foam pads they include). Any vigorous activity would cause the thing to fall out. Figuring that this was probably the way all Bluetooth headsets worked, I gave up and went to bed.
Only to wake up and find that the headset had run out of battery overnight.
After charging it up again, I had the exact same problem as before. The stupid thing would NOT play sound, even though the iPhone says it was sending the call's audio to it. I played around for an hour, following all the troubleshooting tips like last time, but never could get it to work again.
Well fuck this.
There is no way I am keeping this $129 piece of crap, so I go online to the Apple Store to arrange a return. Except, for reasons I cannot possibly fathom, Apple doesn't accept returns online for defective crap...

How incredibly stupid is that? With no other choice, I wait for my lunch break to call AppleCare as requested.
After welcoming you to AppleCare support, the computerized voice starts its spiel. Ordinarily, I don't mind automated systems, because they often prove to be more efficient at routing calls than real people. AppleCare's robot, however is particularly stupid. Here is what I remember from my first call...
APPLECARE: Just say the name of the product for which you need support. For example, say "Mac Pro" or "iPod."

DAVE: iPhone Bluetooth Headset.

APPLECARE COMPUTER: I'm sorry, I don't recognize that product...

DAVE: iPHONE BLUETOOTH HEADSET!!

APPLECARE COMPUTER: I'm sorry, I don't recognize...

DAVE: Operator.

APPLECARE COMPUTER: The wait time for an operator may be several minutes. I've found that I can help most calls...

DAVE: OPERATOR!!!

APPLECARE COMPUTER: So I can route your call properly, please say the name of the product you are needing help with...

DAVE: FUCK OFF!

APPLECARE COMPUTER: Okay, what kind of iPod do you have? For example, say "Shuffle" if you are calling about an iPod Shuffle.

DAVE: AAAAAAAAAAAAAARRRRRRRRGGHHHHHHHHH!!!!

APPLECARE COMPUTER: I'm sorry, I don't recognize that product...
When somebody fucking says "OPERATOR," that's the point when the automated system needs to IMMEDIATELY put you in the queue for an operator. Don't keep trying to convince people to use your stupid shit if they can't get it to work in the first place! This is remarkably bad form, and a true surprise from Apple, whose service is usually impeccable.
A second call to AppleCare, and I get myself put in the iPhone Support queue... for 52 minutes... AT WHICH POINT THE SYSTEM HANGS UP!!! FIFTY-TWO MINUTES ON HOLD FOR NOTHING!!
What the hell?
This time I call The Apple Store, hoping I can return it directly where I bought it and bypass AppleCare. No go. The system immediately transfers me back to AppleCare... where my call is answered on the first ring! WTF?!? Then everything proceeds as it usually does, with my getting the immediate, friendly, competent service I'm accustomed to when calling Apple. They process my return in a few minutes, and I'm good to go.
So I guess it nets out like this: Apple iPhone Bluetooth Headset: surprisingly bad. AppleCare Support: good as usual (once I finally got there). Not surprisingly, this bump in the road hasn't soured me on Apple much. I guess everybody screws up sooner or later. Perhaps because I am so ecstatically happy with my iPhone, it's easy to ignore my bad luck with the headset? This is easily the best mobile phone I've ever had, and I love it more every day. And, despite numerous warnings about AT&T's wireless service (or lack thereof), I've had excellent coverage everywhere I've been with it... certainly no better or worse than my previous service with Verizon.
Anyway, I do find it comforting to know that my Apple Whore status remains unchanged.
It's kind of nice to be a total whore from time to time.