This morning I woke up, rolled over, looked at the clock, lost my mind.
Given my insomniac-nature, I stopped setting my alarm clock a long time ago. I'm always awake long before it goes off, so why bother? Which is why I freaked when the first thing I saw after waking up was a clock that said "10:08" on it. "Holy crap!" I exclaimed, as a shot of adrenaline surges through me and I start bouncing wildly around the bedroom trying to get ready for work. Wanting to grab a slice of leftover cold pizza before hopping in the shower, I dash to the kitchen. And that's when I notice something odd.
Turns out my clock wasn't displaying 10:08... it was flashing 10:08.
The power went off last night, and my clock decided to display some random number on it.
The actual time? 4:30am
I'm not two hours late for work, I'm three-and-a-half hours early.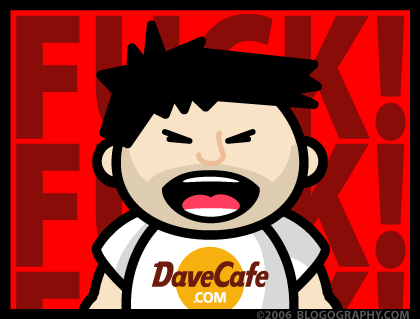 The odds of me being able to fall asleep for any meaningful amount of time before having to get right back up again is effectively zero, so I start in on work. And I work and I work and I work. Until I notice that it's 9:10, and I am over an hour late for work. Again. Kinda.
Can't. Catch. A. Break.
Except today was the day my new comic books arrived, and the current issue of The Brave and The Bold had George Pérez drawing both Batman AND the Legion of Super-Heroes, which is like a comic geek's dream come true. So I guess it's all good.
Oh yeah... since I've (obviously) decided to keep my beloved iPhone, I went to AT&T today so I could have my old Verizon phone number transferred over. Right now I feel like I should say something mean like "suck it, Verizon!!" but I really don't feel that way. I have no complaints over the quality of their mobile network at all. About the only complaint I do have is that their phones are always older generation crap (when I bought my first phone there, they had ONE Bluetooth model, whereas all other carriers were swimming in dozens). And when Apple approached them to partner-up for iPhone, they refused. This was a huge opportunity for them to leap ahead of the curve, and they blew it. Well, I wanted a damn iPhone, and so I was given no choice but to switch carriers. And, despite all the warnings, I have been very happy with AT&T... from the backwaters of rural Georgia to Atlanta to Minneapolis to Milwaukee to Seattle and back home to the backwaters of rural Washington State... AT&amp'T's network has performed no worse than Verizon ever did. I'm sitting here with 5 bars and loving it.
And now, if you will excuse me, I've got to go install new backup batteries in my alarm clock in case the power goes off again.
UPDATE: EXCEPT I BOUGHT THE WRONG KIND OF BATTERIES!! Can't. Catch. A. Break...