It's Bullet Sunday, and I'm running low on ammo!
• Bourne! The latest (and final?) installment in the Jason Bourne film franchise... The Bourne Ultimatum... is finally here. And it totally kicks ass. I love that these movies are so brutally unforgiving with the action, and not afraid to fight dirty. The ending kind of meanders a bit, but there's enough going on earlier that it doesn't sink the picture. I really do hope that they find a way to continue with a fourth film but, if not, at least we've got a rejuvenated James Bond series to entertain us.
• Talk! While seeing The Bourne Ultimatum in a packed theater, I found myself thinking of a new Dumbasses Book for my series...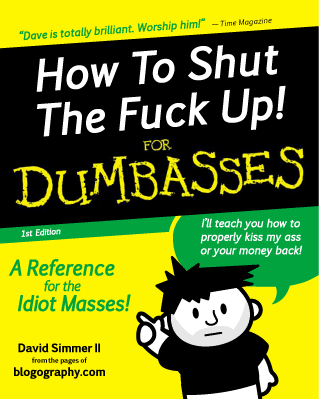 There are entirely too many people in the world who simply cannot understand this simple concept, and about twenty of them decided to go to the movies at the same time I did.
• Choke! Given my near-death choking experience yesterday, I find myself much more sympathetic to the choking of others. Ironically, the one piece of junkmail which managed to evade my spam-filter this morning had a subject line of "My boyfriend's phallus is too big for my mouth." I wrote back and wished her good luck with that... then included a link to the self-heimlich maneuver just in case she ever needs it. Poor girl.
• Condiment!
• Vinyl! I finally broke down and purchased a USB turntable so I can get my extensive collection of 12-inch maxi-singles converted into digital format. It's been a long time coming, and I can't wait to have some great music from my past on my iPod. I would have preferred to spend the $100 re-purchasing the music at the iTunes music store, but the record labels stupidly refuse to make the entire back-catalog of an artist available for sale. And it makes absolutely no sense. There is no reason that an obscure B-side released by the Thompson Twins in 1986 should be out-of-print. DIGITIZE THE SHIT AND SELL IT! ALL OF IT! Since you don't have to produce a crap-load of CDs to sell music anymore, no music should ever... EVER... be out-of-print.
Sigh. It's only 10:30, yet it seems much, much later. Oh well... nothing a handful of sleeping pills won't fix.