It's always difficult for me to come up with something to say on Independence Day. Mostly because one of my favorite Blogography entries is from the 4th of July two years ago. I think it pretty much sums up how I feel about freedom, liberty and all that other cool stuff America is supposed to stand for. The entry also has diarrhea and puking in it, which is always fun.
And speaking of fun, I swear this holiday gets more redneck every year...
"Let's get drunk and blow shit up" could one day take the place of "In God we trust" as the USA's national motto (if it hasn't already).
But, of course, we can't forget the flaming balls...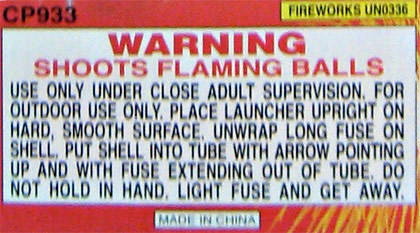 Something else all too typically American here is that "Proud American" is proudly made... in China.
Wow am I exhausted.