"Do you find me sexually attractive?"
"Yes, Robert. Yes I do. You are a very sexy man."
I was up working until 1:30am this morning, so when my mobile phone woke me up at the crack of dawn, I wasn't really in the mood for The Bad Robert Experience. It takes a certain kind of tact and mental clarity to have a conversation with him, neither of which I possessed at the time.
"Seriously. I'm emailing you a photo..."
"No. No. No. No. No. Do not email me a photo, Robert. It's too early for me to see a picture of your ass or whatever."
"Hah! Funny. No, check your email. I need you to look at something."
Knowing I would regret it, I hung up the phone and started groping for my glasses on the night-stand. Once my spectacles had been properly situated on my face, I then grabbed my MacBook and waited for Robert's 1.2 megabyte attachment to come through. With each passing second my mind was racing with speculation as to what I might find when the download was complete. Porn? A new tech gadget? Porn? A new motorcycle? DONKEY PORN?!?
After a few moments, the photograph had arrived. It looked something like this...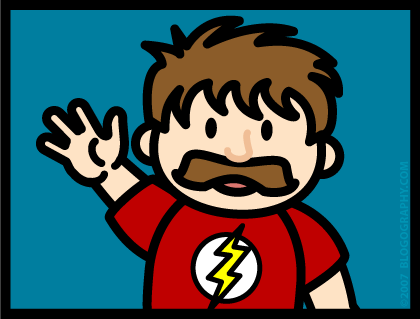 The ensuing conversation went something like this...
DAVE: You've grown a mustache?

ROBERT: It's cool, right?

DAVE: In a kind of 70's porn star way. I was kidding before, but with that mustache you actually are a very sexy man!

ROBERT: I know! But Super Deluxe Girlfriend hates it. She says she doesn't find me sexually attractive now, and won't let me have sex with her again until I shave it off.

DAVE: Oh well, it was good while it lasted then.

ROBERT: No! I want to keep it!

DAVE: Are you insane? Why would you give somebody as hot as Super Deluxe Girlfriend an excuse not to have sex with you?

ROBERT: Eh. She'll come around.

DAVE: Dude. You are seriously mentally impaired.

ROBERT: Yeah, but I look totally awesome!
Spoken like a man who hasn't yet been denied sex long enough to miss it.
I give him a week before he's willing to shave not only his mustache, but anything else she asks him to...