Whenever I have a bad day, I watch the last five minutes of the film Millions because it never fails to put a smile on my face. For convenience' sake, I have it cued up on my TiVo for immediate viewing at any time.
The fact that I am watching it most days now is not lost on me.
Today was filled with a non-stop parade of nasty surprises, so I just finished watching the end of Millions twice...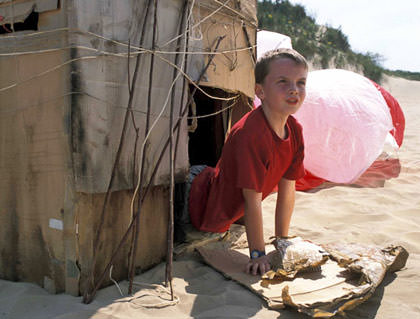 Things that make me go ARRRRGH!
• Best laid plans... Today I found out that all my intricate and carefully-scheduled travel plans may have to be completely changed. The thought of having to spend hours altering reservations and rescheduling my life fills me with a dread beyond my ability to articulate.
• Steve Jobs is a cruel mistress... I received a package from Apple this morning. Thinking it was my new iPhone, I ripped into the box with a glee usually reserved for a tub of Snack Pack chocolate pudding. But it wasn't my iPhone. It was the car charger for my iPhone. Apple says PSYCHE!! The current scheduled delivery date for the DavePhone is while I am out of the State, which is what makes this little tease particularly cruel.
• A pain by any other name... My back is still jacked up, necessitating that I spend every waking hour medicated and every sleeping hour drugged. My life goes by in a hazy blur and it feels like zombies have eaten my brain. Fortunately, I have a T-shirt for that.
• Master of my domain... Some guy is starting up a blog indexing service site (or whatever) and emailed to tell me that they had chosen "Blogography" as the name. Since it would be "confusing" for people to type in "blogography.com" and have my silly blog pop up, they want to acquire my domain. So I do what I always do when this happens, I write back and tell them that the very least I would be willing to accept for it is $500,000. Apparently, this was taken as some kind of joke, because he came back with a "maximum offer" of $750 and a hint of legal entanglement. Maybe it's the pills talking, but I find this really funny.
• It doesn't get much worse than this... The most watchable thing on television just now is Garfield: A Tale of Two Kitties. Since I am doped up on pain killers and beyond caring, I'm just going to leave it running (despite the film being abhorrently bad). How could anybody watch this crap without being medicated?
Now, if you don't mind, I'm just going to lay here and moan in agony for a while...