If there's one thing I really hate... really, really HATE... it's being lied to.
I am sitting here in Minneapolis when all of a sudden there's an announcement that the inbound aircraft has been delayed, and we will be an hour-and-a-half late getting into Milwaukee. Well, shit happens, and I'm not too upset about it. If I got angry every time a flight was cancelled or delayed, traveling anywhere would be a miserable experience because there's very few times that stuff doesn't go wrong anymore... flights are always being delayed or canceled.
And then I see that the "delayed inbound aircraft" is coming from Seattle.
Which seems odd, because I just came off of the inbound flight from Seattle.
Which means this was NOT our original inbound aircraft. A quick check confirms our actual aircraft landed on time and originated in Anchorage.
Which means that Northwest is lying to everybody.
And that's stupid.
If they simply said "we've had to change aircraft because we fucked up" or whatever the TRUTH is, I'd be fine with it. But instead they keep announcing over and over again that the reason for our wait is that the inbound aircraft has been delayed. Probably because that sounds more like it's not their fault... hoping that people will assume it's the weather or something. Naturally, this leads me to believe that it IS something that's their fault, because why else would they lie?
And I really hate that.
Lying Northwest Airline bastards...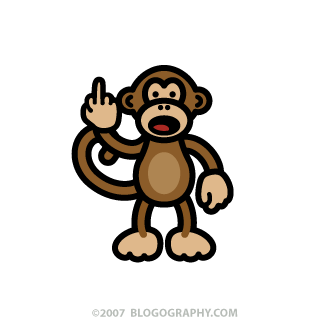 The real kicker is that if I would have booked this later flight out of Seattle in the first place, I would have had two more hours to goof around at home this morning. Or maybe even sleep-in after having worked until 1:30am.
But instead I'm sitting here being lied to.
UPDATE: And, of course, they lost my luggage. Instead of sleeping-in tomorrow morning, I have to get up and (hopefully) collect my suitcase at the airport instead. Another night of 4-hours sleep. Yay. Thank heavens for my emergency underwear stash in my backpack.
UPDATE: It's 2:00am and I am in my hotel room. Which smells like feet.
UPDATE: Feet which have stepped in a pile of shit.
OBVIOUS OBSERVATION: Clearly this has not been a good day.
UPDATE: My luggage was on the morning flight. Woo hoo! But I did have to pick it out from the carousel amidst loose cans of meat. Somebody packed up a box with food and it busted all over the place. Since I was starving from not having eaten all last night or this morning, I was very near grabbing a can and biting through the metal to eat it. But then I remembered I am a vegetarian. Now that I'm back to the hotel, I'm going to turn the air conditioner ON, take my pants OFF, and have a nap.
PS: The reason I didn't have the airport deliver my bag to the hotel is because I was told delivery runs are scheduled, and I may not get my bag until noon or later. Since I am flying out around then, it was worth the 10 minute shuttle ride to the airport so I could be sure I got it.