Today was a day I've been looking forward to for weeks now, because I was going to meet up with fellow blogger Beth and her husband Kevin so we could go to WORLD OF COKE!!
This is actually the NEW WORLD OF COKE, which only just opened in May. It replaces Old World of Coke (which I visited years ago), and is twice as huge... with an advertised SEVENTY different Coke products available for sampling from around the world! Sweet!
This was going to be an awesome opportunity to meet some readers (which I always enjoy) AND drink my beloved Coke with Lime until I pass out from a sugar-induced coma.
The tour starts out with a waiting room where they inundate you with Coke memorabilia, then brainwash you into submission with an all-Coke audio soundtrack that features Coke soundbites, jingles, ads, and slogans throughout the years. Kevin was too smart to be brainwashed and found it all to be pretty funny, but I was converted into a Coke Zombie almost immediately. I'd like to blame it on the fact that I'm not in my native time zone, but the simple truth is that I'm a sucker for a good advertising jingle...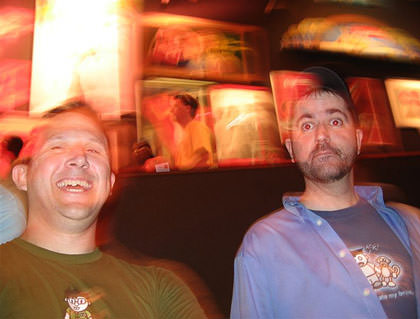 Coke Zombies ate my brain!!
They don't let you go to the Coke sampling room immediately... oh no... you have to watch a Coke film, walk through a Coke room, say hello to the Coke polar bear, see a mini Coke bottling plant, experience Coke in 4-D, and visit the Coke pop-art display first.
Then, AT LAST, it was time for my Coke with Lime!
I was so excited! Soda dispensers with drinks from around the world were here!
I didn't drink anything all day in anticipation of this moment!
Only to find out that WORLD OF FRAKKIN' COKE DOESN'T HAVE COKE WITH LIME!!!
That's right... NO COKE WITH LIME IN THE ENTIRE WORLD OF COKE!! They will let you sample the most horrendous tasting substance on earth (a soda called "Beverly" from Italy, which makes you want to die it tastes so bad) but you can't sample the divine elixir that is Coke with Lime.
Bastards!
My day was pretty much ruined. I went to World of Coke all happy and full of joy and stuff... but then left with nothing but a crappy free souvenir bottle of regular-old Coke...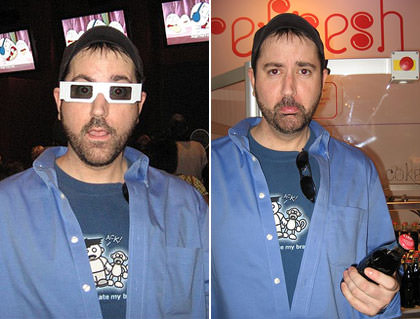 The only reason I didn't kill myself right there in the middle of World of Coke was that Beth had given me this super-sweet baseball cap which she custom-embroidered with DaveDevil on the back...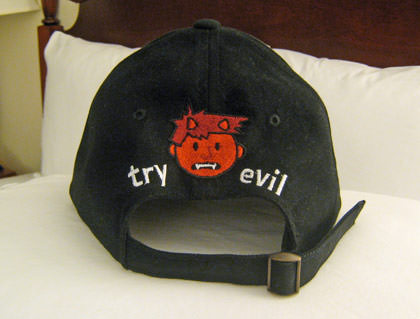 Yes. Yes I know. It's like one of the coolest things ever. And having it put me in such a good mood that I didn't even feel like taking a flame-thrower to World of Coke until it burns the ground... even though it's totally justified, given that you can't get Coke with Lime there.
But I still kind of want to go back tomorrow with a crate of limes and vandalize the building with them. Maybe knock out a few windows and smear pulpy bits of smashed lime all over the walls...
Or maybe I could just alter their signs so that everybody will know the TRUTH...
Oh well. Life sometimes sucks that way.
Before we parted ways, Beth decided to improve her Dave Number...
She now has a Dave Number of TWO, which means she's part of that elite class of people who no longer have to pay taxes, always gets upgraded to First Class, and gets a 25% discount on chocolate pudding and cheese products at her local grocery store. The real advantages of such an awesome Dave Number, however, cannot truly be measured... it's the psychological benefit of knowing that you're a much cooler person than most everybody else on the planet who hasn't been lucky enough to meet me yet.
After seeing World of Coke without Lime and saying goodbye to Beth and Kevin, I walked across the plaza to visit the Georgia Aquarium, which is kind of nifty. It's a pretty big building, but it kind of has to be since they have WHALES inside of it! They're those freaky white Beluga whales, but still fun to watch.
In order to kill time and miss rush-hour on the MARTA train, I walked back to the Hard Rock Cafe so I could have a quick bite before returning to my hotel. They've changed things around since my last visit, but it's still a great property with a really good staff. I wasn't going to buy anything, but they had some cool new city pins, and I couldn't resist. But, then again, I never can. Hard Rock pins are like my Kryptonite or something.
I am still totally loving my iPhone. One of the coolest pieces of tech I've ever owned. But today I did find something that's not so great about it... the camera. I purposely left my little Canon camera back in my room because I thought I'd take all my photos with the iPhone camera. But it turns out that the thing sucks pretty bad for photos. Low-light situations render the camera practically useless, and iPhone isn't much better in really bright light. Unless everything in the frame is perfect lit in a way that's not too dark and not too light, you ain't going to get very good pictures. Kind of sad for a $600 mobile phone, but I guess it can't do everything. Fortunately, Beth had her camera with her so I had something to post here today.
Tomorrow it's back to work work work...