FUUUUUUUUUUUUUUDGE!
I am trying my best to think of something that hasn't gone wrong today. Turns out there isn't anything. Despite my hopes, I didn't sleep AT ALL last night, and it's all been downhill from there. To list everything that's gone wrong would depress even me, so I've decided to just list the top five...
• In my sleep-deprived state, I grabbed a bowl for my Captain Crunch cereal and knocked a coffee mug off the counter where it landed on the top of my foot. I now have a big welt there and can't tie my shoe. This wouldn't be a big deal, except my shoe keeps falling off, causing me to fall down and embarrass myself a lot. It's like being drunk... but without the benefit of being totally wasted.
• I am sitting here with a sticky-wet lap because the bottle of Coke I had on my break decided to overflow all over me for some reason when I opened it. It came straight from the refrigerator, so I have no idea what made it explode. I must have angered the Coke gods or something.
• Artificial Duck Co. store orders are starting to be returned to me with an "insufficient address" notice. Yet when I look in tracking, the address is complete (heck, they won't let you ship anything WITHOUT a complete address!). Apparently the postal service's Click-N-Ship is, in fact, Click-N-SHIT... because it generates bad labels. The glitch appears to be random, because when I track packages before and after the faulty label, they've been delivered. So, if you've been waiting for a T-shirt order and haven't gotten it... that would be why. I am re-shipping them immediately after I get the return, and will generate a new tracking email so customers will know what happened...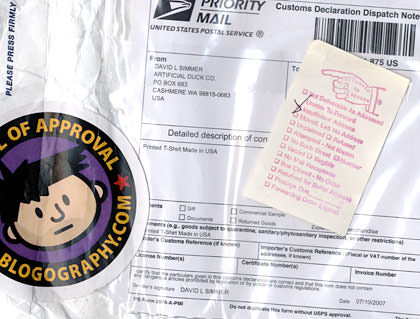 The even worse part of the deal is that I can't simply re-print their incorrect labels... I have to buy a NEW label, then request a refund for the original label. I'm not holding my breath that I'll be getting my money back. I'm sure they'll somehow make this my fault.
• A critical Fed-Ex package I am waiting for is lost. The only thing that tracking shows is a departure scan, then nothing. Nobody has any idea what's going on. It's as if the thing just evaporated in mid-air. In the meanwhile, I'm screwed. There's no way to meet deadline on my current project now, and I have no idea what's going to happen.
• Due to some stupid crap I didn't understand, the cost to change my airline tickets to my new itinerary was outrageously expensive, so I ended up keeping my old ticket and just adding a second ticket. So now I fly to where I am no longer working, then fly to where the new work is, then fly back to where I need to be so I can fly back to where I don't need to be so I can fly home. The airline industry has got the biggest scam going with their complicated, incomprehensible fare calculations. Why can't everybody just abandon this antiquated way of doing business and switch to more simplified and easily understood fare rules like Alaska Air? With Alaska, every segment is selected with full knowledge of EXACTLY what's going to happen if you need to make changes to it. And, since every segment has separate rules, you don't f#@% up the rest of your fare when you only need to add or change a single piece. I love this because it's a straight-forward way of doing business, and doesn't screw customers when their travel needs change. I mean, seriously, LOOK AT HOW SIMPLE IT IS...
When I fly Alaska, I simply choose "value" fares for segments I am sure about... then pay a little more for "full flex" on segments I'm not. Simple. It frustrates me that other airlines can't be this honest when you shop for fares, and makes me wish Alaska had more routes. Because, seriously, how logical is it that it's $1200 cheaper to buy an additional new ticket than adjust an old one?
• And here's the worst part of my entire day so far... it's only half over! Now that my lunch break is done, I've got an entire afternoon of even more horrendous crap to look forward to!
Bleh.
I want to go home now, climb into bed, and start the day all over again.
Or drink a fifth of Jack Daniels.
One of those two things.