I don't know why, but tourists tend to stand out more in Seattle than they do in other cities.
It's not that the tourists are any more or less annoying here, they just seem to be badly out of place somehow. And I'm not talking about the superficial things like walking around with cameras, maps, and guide books and stuff, it's just something in the way they move and react that doesn't feel right. Could just be me, but when I bring it up with other people... even friends who are here being tourists themselves... they get what I am talking about.
Though, just like everywhere else on the planet, you do run into the occasional stupid tourist. People who show up with no clue as to where they are or what they are doing. A classic example could be had as I was standing in line at hotel registration this morning. Two dumbass bitches cut in front of me (with one of them screaming "I JUST NEED TO ASK A QUICK QUESTION!!") and yelled at the front desk guy "IS THERE A STARBUCKS NEARBY? WE WANT COFFEE!!"
To his credit, the guy was really professional and told them that there were shops on either side of the hotel. This was really nice of him, because my reply would have been something more like "BITCH, YOU ARE IN F#@%ING DOWNTOWN SEATTLE! THERE ARE ABOUT TWENTY STARBUCKS WITHIN A FIVE-MINUTE WALK OF THIS HOTEL! JUST TRIP YOUR STUPID ASS OUT THE DOOR AND OPEN YOUR F#@%ING EYES!* Which is actually kind of an understatement. Asking where to find a Starbucks in downtown Seattle is like walking into a strip club and asking where the titties are, because they're all around you...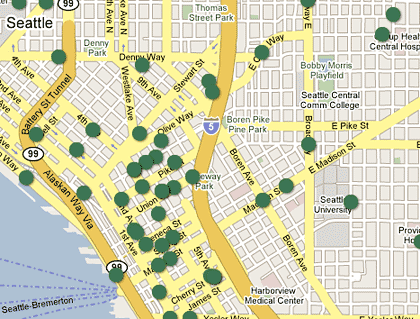 Map taken from the totally cool FindByClick site.
On the bright side, I sure do have a nice view from my hotel room. Since I will be sitting here all day working, that's pretty sweet. The monorail track is right below my window, so I get to watch the trains go back and forth...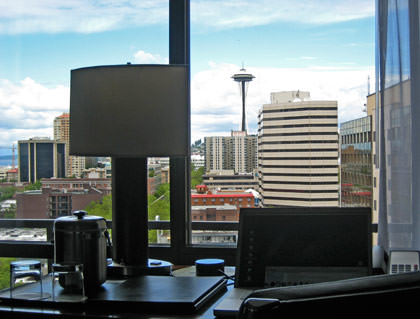 In other news, my personal hero Steve Jobs delivered the keynote address to a crowd of Mac developer whores at Apple's Worldwide Developer's Conference today (you can watch a video of it here). There wasn't really any revolutionary news coming out of San Francisco this morning, just more pretty demos of the next MacOS (code-named Leopard). Overall, I remain impressed, and can't wait until October to get my copy.
But one piece of Leopard is available today... the beta of Apple's Safari web browser. It's pretty cool, adding long-desired features like movable tabs, resizable text entry boxes, and inline search...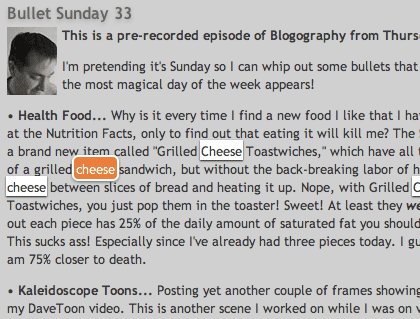 Apple has also released a version of Safari for Windows which may turn out to be a really smart move. If a nice chunk of Windows sufferers start using Safari, perhaps web developers will work harder to make their stuff more compatible with my browser of choice. I question as to whether this can actually happen, but I guess it's worth a try.
Anyway, I have a Johnny Rockets' Streamliner Burger with no grilled onions (add cheese) calling my name for dinner, and then I need to rush right back so I can try to get some sleep before a very busy day of work tomorrow.
Gee... does anybody know if there is a McDonalds in Seattle for breakfast in the morning?
* Please excuse the harsh language... I've been watching HBO's "revolutionary" and "ground-breaking" new show John from Cincinnati. I find the show's story of a child-like stranger who changes people's lives to be boring, predictable, and a total rip-off of the film/show Starman. The only thing "revolutionary" and "groundbreaking" is that the characters say "f#@%" about ten times in every sentence. Which, I suppose, is to be expected from the producers of HBO's previous overly-profanity-laden series Deadwood. Bleh.