Today's entry has been rated R by the Blogography Review Board for verbal violence, mature themes, and massive use of profanity. Text contained within may be upsetting to younger readers, persons with heart conditions, pregnant or expectant mothers, overly religious nut-jobs (this means you Pat Robertson!), dumbasses incapable of comprehending satire or parody, those with an IQ under 80 (including idiots, morons, stupid-heads, imbeciles, dunces, dimwits, dorks, chowder heads, or raging dumbasses), fans of the television show 7th Heaven, and all those people who are already offended by my blog (but read it ever day anyway)...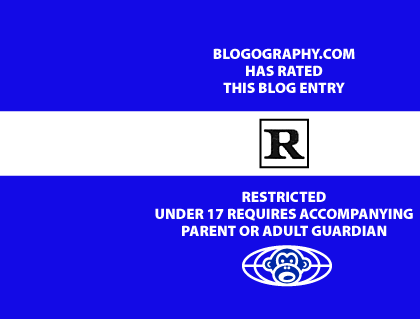 Do not proceed if you fall into any of the above categories. And, if you should choose to proceed anyway, don't even think about sending me an email or leaving a comment telling me how much you hate me and my blog. Because after I've gone to all this trouble to warn you about the atrocities within, that would just make you a major douche.
FUCK QUIZNOS! FUCK QUIZNOS UP THEIR STUPID ASSES!
Today I woke up in a daze because I have to take a handful of pills in order to get even a little bit of sleep now-a-days. This was not a good thing, because I had a work appointment in Wenatchee this morning and really needed to have my brain be in on the situation.
But I maintained a cheery attitude, because going into Wenatchee meant that I could stop at Quiznos and get me a delicious Veggie Sandwich. I had been anticipating the toasty goodness of Quiznos since my alarm clock blasted my ass out of bed, and it became my top priority of the day. So even tough things were going wrong all morning, it didn't bother me so long as lunch at Quiznos was at the end of it all.
Until I actually got to Quiznos.
And found out the fuckers had taken their Veggie Sandwich off the menu.
They used to have two vegetarian choices, "Veggie" and "Double Cheese," but both had been removed in favor of a new sandwich called the "Italian Caprese" which has mozzarella, basil pesto, tomato, romaine, and balsamic vinaigrette...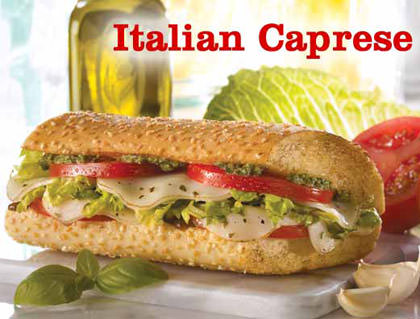 Needless to say, I was fucking livid. The ORIGINAL Quiznos Veggie Sandwich had guacamole, olives, lettuce, mushrooms, tomato, red onion, mozzarella, cheddar, and a kickin' red wine vinaigrette... a fantastic variety of tastes and textures that made for an incredible-tasting sandwich. By comparison, their new "Italian Caprese" is boring as shit. I mean, seriously, mozzarella and tomato? What the fuck?!? Even worse, I hate romaine, and I hate balsamic vinaigrette even more!
When I asked the sandwich-maker girl about this shit, she said that they still had all the ingredients to make an "Original Veggie" and she'd be happy to put one together for me.
This should have made me happy, but all it did was piss me off even more.
If they still have all the ingredients, why take the fucking sandwich off the menu in the first place? Did McDonalds take the Big Mac off their menu when they introduced the McRib sandwich? No. No they did not. But Quiznos doesn't give a flying fuck about their loyal vegetarian customers who have been buying Veggie sandwiches for a decade. "Fuck the vegetarian assholes," Quiznos says... "we'll get rid of their two GOOD sandwich choices that have expensive ingredients like guacamole, and replace them with a single sandwich that has cheap-ass dressings and bitter-as-shit romaine lettuce which most people don't like... AND WE'LL CHARGE THEM MORE MONEY FOR IT! BWAH HA HA HAAAA!"
Fucking assholes. I'd like to kick an "Italian Caprese" up the ass of the dumb-fuck Quiznos corporate bastard who decided to fuck over their vegetarian customers with this stupid shit. It would be a different matter entirely if they had ADDED the crappy new sandwich to their menu, then I'd still have the option of buying the sandwich I liked. But to delete two great sandwiches for a crappy new one is just fucking balls-out stupid. Did the corporate dumb-fucks ever stop to think that their customers might not like their shitty "Italian Caprese," and it would be smart to keep at least one classic sandwich on the menu? No. Because obviously Quiznos is run by fucking incompetent pricks who hate their vegetarian customers.
I guess I shouldn't be surprised though... thanks to obscenely huge subsidies our government gives meat ranchers, it's easier (and cheaper) to fuck over vegetarians than offer them decent menu options. Without the subsidies, a Big Mac would cost something like $7.00, so where's the incentive for McDonalds to go nation-wide with their awesome McVeggie Deluxe (only available at their New York Times Square location)? There is no incentive, because our government makes sure steroid-laden beef is cheaper than a more healthful vegetarian alternative when, in reality, beef is FAR more expensive to produce (not to mention far worse for the environment).
Another example is Arby's. These fuckers have a fantastically-delicious Market-Fresh sandwich that I absolutely love. But they don't have a "Market-Fresh Cheese Sandwich" on the menu, so I always have to pay the money for a "Market-Fresh Beef Sandwich" and have them hold the beef. Heaven forbid the Arby's assholes add a cheese sandwich to the menu for their vegetarian customers. If they did that they wouldn't be able to fuck people over by making them pay for the beef they don't want!
Quiznos sandwich-makers are currently able to make an "Original Veggie" because the menu change is recent. But this isn't going to last forever. Eventually the sandwich-makers will know nothing of the "Original Veggie," and I will no longer be able to order it. When that day comes, I'll have to either get the shitty "Italian Caprese" or switch to Subway. But since Subway still hires that fucking ass-clown Jared to be their idiot spokesman, that ain't going to happen. Both Jared and Subway can go fuck themselves.
Quiznos can go fuck themselves twice and die.
UPDATE: For those haters who are sending abusive emails and comments because they are too fucking stupid to understand why vegetarians might be pissed off that they are getting a lesser sandwich as their ONLY option at Quiznos... perhaps a simple grid will spell it out in a way that your minimal intellect can grasp...
| | |
| --- | --- |
| VEGGIE SANDWICH | ITALIAN CAPRESE |
| lettuce | romain lettuce |
| tomato | tomato |
| red wine vinaigrette | basalmic vinaigrette |
| — | basil pesto |
| mozarella | mozarella |
| cheddar | — |
| mushrooms | — |
| olives | — |
| red onions | — |
| guacamole | — |
The "new and un-improved" sandwich is the same thing as before, but with a bunch of shit taken off... for which they are charging more money. If I wanted a fucking "Italian Caprese" before the menu change, I would have just ordered an Original Veggie, then had them take off the cheddar, mushrooms, olives, red onions, and guacamole.
This was not a case of "let's remove a bunch of shit because it will make a better sandwich"... it is more a case of "let's remove a bunch of shit so we can make more money off people who don't want meat." In effect, it's a sandwich listed under the "VEGGIE" heading that literally has less veggies than the sandwich it replaces. That's why I am so fucking pissed off. According to the new menu, to get what I used to eat I now have to pay extra money to buy a Turkey Bacon Guacamole (or whatever) sandwich and have them hold the turkey bacon that I never wanted in the first place. Way to treat your vegetarian customers, Quiznos!