It's a busy Bullet Sunday as I prepare once again to head over the mountains...
• Sometimes you act like a flake... Modern technology is a wonderful thing. Except I am starting to seriously question our application of it to the world we live in. What good is being able to put a man on the moon if my breakfast cereal still goes all soggy in milk? I stepped away from my bowl of Honey Bunches of Oats for like TWO MINUTES so I could see how the meth I was cooking up in the bathroom was doing, and when I got back all I had was a bowl of soggy mush. Isn't there some kind of anti-milk teflon coating that can be put on cereal or something? Soggy flakes suck ass.
• Nope, still pissed off... Usually after writing a ballistic rant in my blog, I feel kind of bad about it the next day. But not this time. Turns out I still think Quiznos can take their crappy "Italian Caprese" and shove it up their stupid asses. BRING BACK THE VEGGIE SANDWICH!!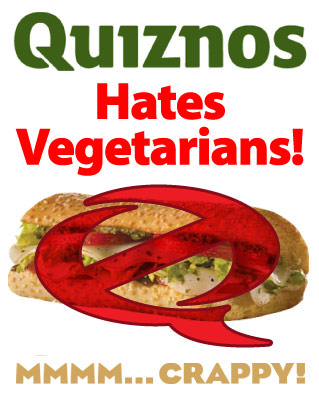 • Scare the shit INTO me... Speaking of fast food, why is it that the fast food industry always seems to choose freaky-ass mascots to represent their companies? What are they trying to do... scare you into eating their shit?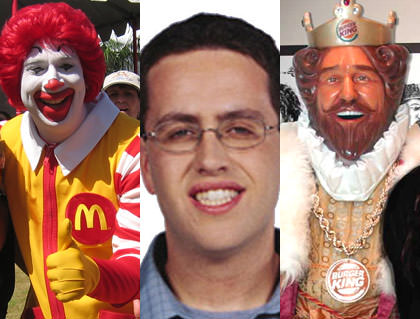 • I see your Schwartz is as big as mine... Believe it or not, this month is the 20th anniversary of one of my favorite parody films ever... SPACEBALLS! For the longest time I've been hoping for a sequel... but I've just learned something even more special: Mel Brooks is making a Spaceballs animated series!! From what I can find out, the cartoon is due to air on G4 Network this Fall. I have no idea if Rick Moranis, Bill Pullman, and Daphne Zuniga will be lending their voices to the show (and, unfortunately, John Candy is no longer with us to participate), but can't wait to see it.
• Understanding avoidable avoidance... Why is it when people hear something third-party that upsets them, they don't bother to verify it with the person who supposedly said it in the first place? I just got a call from somebody who hasn't spoken to a mutual acquaintance for two years because they were told something totally outrageous that was supposedly said about them. But here's the problem. I was actually there when the event took place, and know for an absolute fact that it was never said. It was a gross exaggeration of something totally unrelated. That's two years of hard feelings, uncomfortable silence, and deceptive avoidance... all of which could have been eliminated if they would have just verified the information. Is there anything sadder? I can't help but wonder how many times people have written me off over something I've never said.
And, on that note, it's time to pack my suitcase...