The drive back to Seattle was fairly uneventful. About the only interesting bit was when I hit a wall of fog coming down from the top of Snoqualmie Pass. It was so dense that you were lucky if you could see two car-lengths ahead of you. This made for some tricky maneuvering past vehicles that decided to stop in the middle of the highway.
After work it was time to hit Johnny Rockets for a veggie burger dinner, and then pick up my new hat. One of my blue Helly Hansen caps had gone missing, so I special-ordered one to replace it...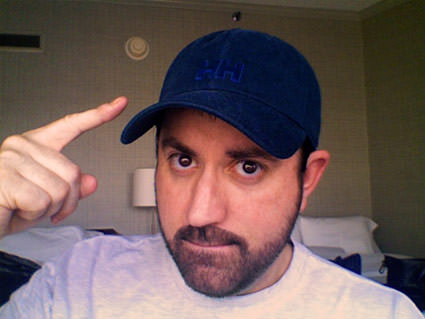 H/H hats always start out this beautiful deep blue color, then eventually fade to a nice dark navy. But the best part is that they shrink to a really good fit after getting wet a couple of times. Nothing quite so nice as a good-fitting cap!
Fortunately I escaped Helly Hansen with my wallet in-tact. I am not much of a shopper, but I could easily blow through $1000 in about 10 minutes there. I guess everybody has their shopping kryptonite.
I just wish mine was at someplace less expensive.
Oooh! I just noticed that my hotel room has a different view than last time! This time I'm overlooking Fantasy Unlimited...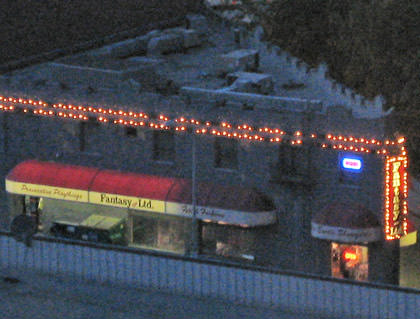 Fantasy Unlimited... home of "Provocative Playthings!"
This is kind of a surprise, because I thought that Fantasy Unlimited had gone out of business. They used to be located downtown... I have fuzzy memories of getting totally drunk with friends and goofing off with all the crazy crap they sell there. I'm pretty sure that we were asked to leave once when we decided to have a strap-on cock-fight.
Hmmm... perhaps I won't sit here and watch television for the rest of the night after all...