I took a Reeses Peanut Butter Cup bar to work today so I'd have something to eat for lunch. Unfortunately, I left it in my car which sat out in 80-degree heat so, instead of peanut butter cups, I had warm peanut butter goo. I ate it anyway... well, not so much "ate" as "sucked it out of the package." While I admit that's pretty sad, the idea of peanut butter and chocolate going to waste just doesn't seem right.
In other news, my gun finally arrived today.
When my T-shirt order is printed at the end of the month, I have two small orders that are being shipped to a shop. This was kind of unexpected, as I had only planned to sell them in my Artificial Duck Co. store, but the shop-owner who contacted me was really cool and so I agreed to give it a try. Wanting to be all professional-like, I decided I would tag the shirts just like you see in actual clothing stores.
To do that, I had to buy a gun and some tags...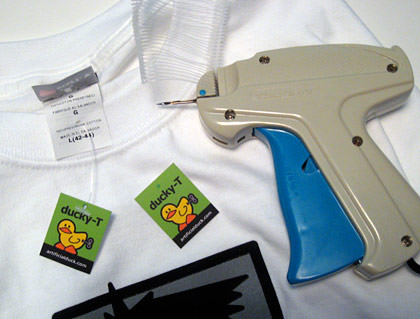 The tags, which were printed by Moo, look great. But it's the tagging gun that is super-sweet. It's got this giant needle on the front that you can punch through just about anything and put a tag in it. And I have. About the only thing that I haven't tagged yet is parts of my own body. I'm trying to work up the courage to tag my ear, because I think it would look cool...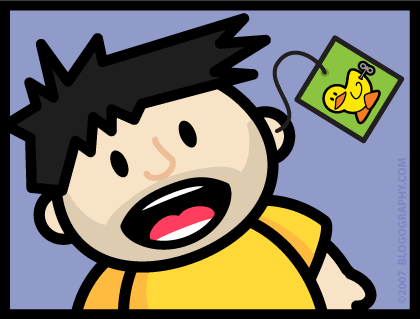 Something tells me it would take a lot of alcohol before I would be capable of stabbing myself with a needle gun though.
Fortunately I have a fifth of Jägermeister in the freezer, so it's all good.