I am growing more and more depressed over the astounding lack of compassion in the world today. It seems every time I turn on the television, pick up a magazine, or surf the internet I am subjected to hurtful, hateful behavior that has me questioning how much longer we can survive. If it weren't for random flashes of kindness I stumble upon from time to time, I'd probably lose hope for humanity altogether.
And, thanks to the shining stars of today's hate-filled media, things just continue to get worse and worse. First they profess to care for us, fight for us, and believe in us...
NANCY GRACE: "I'm not pretending to be anything but a crime victim who went to law school and tried a lot of cases."
PAT ROBERTSON: "I pray that I might be in the center of God's will. I pray for wisdom that He might lead me and give me wisdom in the tasks that I have ahead of me."
BILL O'REILLY: "Our philosophy is we call it as we see it. Sometimes you agree, sometimes you don't. Robust debate is good."
ANN COULTER: "I take the Biblical idea. God gave us the earth. We have dominion over the plants, the animals, the trees... God says, 'Earth is yours. Take it. Rape it. It's yours.'"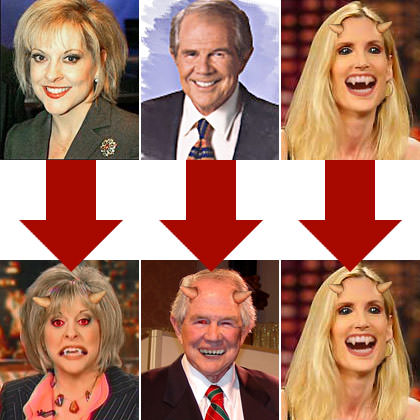 Then they turn right around and demonize people for the sake of ratings and power, advocating violence and hatred with a recklessness that isolates us, divides us, and destroys us...
NANCY GRACE: "You know what, Kevin? I'm so glad they didn't miss a lacrosse game over a little thing like gang rape!" —— "Guilty, guilty, guilty!"
PAT ROBERTSON: "Many of those people involved in Adolf Hitler were Satanists, many were homosexuals, the two things seem to go together." —— "The feminist agenda is not about equal rights for women. It is about a socialist, anti-family political movement that encourages women to leave their husbands, kill their children, practice witchcraft, destroy capitalism, and become lesbians."
BILL O'REILLY: "Shut up. SHUT! UP!" —— "...the most unattractive women in the world are probably in the Muslim countries." —— "Will African-Americans break away from the pack thinking and reject immorality? Because that's the reason the family's breaking apart... alcohol, drugs, infidelity. You have to reject that, and it doesn't seem, and I'm broadly speaking here, but a lot of African-Americans won't reject it."
ANN COULTER: "My only regret with Timothy McVeigh is he did not go to the New York Times Building."
Why? Why are dumbasses like these even on the air? Why do people listen to them? I don't care if you are Conservative or Liberal... Republican or Democrat... Christian or Athiest... who could possibly want this kind of hateful crap into their lives? Isn't the world in bad enough shape already?
All I'm asking for is a little compassion. A little caring. A little hope.
And it would be nice if some of that compassion, caring, and hope can come my way...
Argh. I've been working all evening and now it's almost midnight. I sure hope I can manage to get even a little bit of sleep tonight. Looking for compassion in planet filled with hostility and abuse is a tiring way to spend your day.