Hey Hay Hey! It's Bullet Sunday today!
• Photograph. I've been going through all my old photos recently, trying to find a specific shot that I've lost track of. Along the way, I've been running into pictures of me that are pretty disturbing. It would seem that I'm either acting like a dork or drunk (or both) in every single picture in which I appear...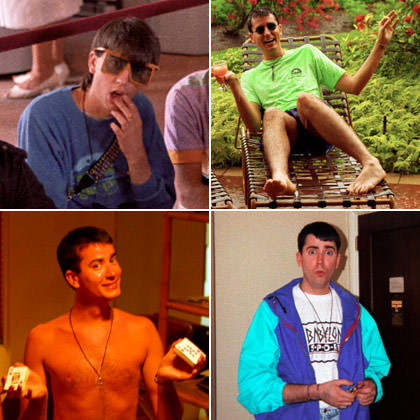 1) Wearing my 3-D glasses while waiting in line for a 3-D movie.
2) Trying to flash an "okay" sign while getting drunk in the rain.
3) Drunkenly dealing cards while losing in a game of strip poker.
4) Caught like a drunken deer in the proverbial headlights here.
Seeing all these images has brought me to the disturbing conclusion that I've been a drunken dork most of my life. I admit that this doesn't come as much of a surprise, but I'm going to act shocked anyway.
• Stemmed. So much for the separation of Church and State. So much for representing the people. President Bush has now vetoed for a second time legislation that would authorize federal funding of embryonic stem cell research. Despite the fact that the majority of Americans support it. Despite the fact that no science or rational thought can apply the status of "human life" to an embryo. Despite the fact that actual human lives hang in the balance. Despite the fact that the embryos in question will be discarded anyway. It's all typical political pandering bullshit insanity. I'd have thought that the President's forcible application of his personal religious and ethical convictions on me or anybody else would be a direct violation of the foundation upon which this country was built, but whatever. Using this logic (or lack thereof) a vegetarian president could make eating meat illegal because it violates his personal ethical beliefs. WTF?!? Just 575 days of dumbassery left.
• Paris! OMG! Like, Paris is getting out of jail early and will be released on Tuesday! JUSTICE PREVAILS! Which means I guess it's time for me to come clean about something... since the tabloids are sure to break the news soon anyway.
I am totally dating Paris Hilton.
I wrote her letters of encouragement while she was doing time, and she understandably fell head-over-heels in love with me. I will be moving to L.A. at the end of next week so Paris and I can be together. 2GETHER 4EVA!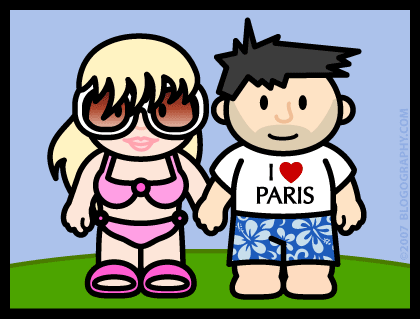 Lil' Dave is totally not wearing panties in this shot...
We ask that the media respect our privacy as we plan our new life.
And by "respect our privacy" we mean "follow us around and take our picture everywhere we go, because we are so totally hot and interesting and deserving of your love."
• Postcard. Five steps to embarrassment nirvana...
Fill in a postcard request from Avitable.
Go work in Seattle for a week.
Have your mother pick up your mail at the local small-town post office while you are gone.
Find out your mother thought the postcard was hysterical and showed it to everybody.
Have random people ask you if your new penis pump has arrived yet...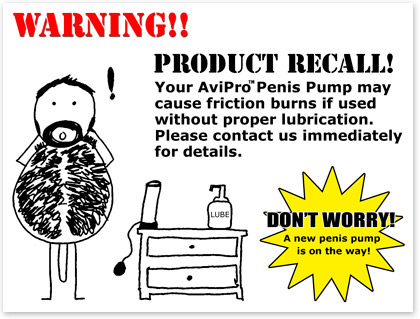 Insomnia blows! It's 7:00am on a Sunday and I am wide awake. On the bright side, I did get an entire five hours sleep last night, which must be some kind of record for me or something.