Avitable has just announced that donations have topped $1700 for the Puppy Monster Memorial Fund. Thanks so much to everybody who helped out... it's nice to know that our blogging community steps up to take care of their own during tragic times like this. Money is a soulless thing without conscience. But this money will help a father with the financial burden compounding an already unimaginable situation, and there's nothing soulless about that. If you have even $5 to spare, every little bit helps. Visit Avitable's donation page if you can, and know that what you give goes directly to help out our own NYC Watchdog.
This morning on the way back from Seattle, I had probably the most frightening experience on the road since I started driving.
I was on the single-lane stretch of the 522 heading towards Monroe, when a pickup truck came roaring up on my bumper nearly plowing into me. At the last minute they turned sharply, cutting across the centerline. Thankfully it was 5:30am and there was no oncoming traffic or else there would have been a horrible accident. The driver eventually gained control of their vehicle and made it back into our lane, but continued driving erratically. At one point, he tried to pass me... despite the fact that I was already 5 miles over the speed limit AND this was a well-defined, highly-dangerous, no-passing zone.
I was scared out of my mind... not knowing whether this idiot was tired, drunk, or high. My first instinct was to pull off and let him pass me, but there was a motorcyclist ahead of me. If the guy ran into me, I had thousands of pounds of metal to protect me. If the guy ran into a motorcycle, the rider would be dead. So I stuck it out, watching in horror as the driver weaved all over the road, accelerating to horrific speeds, then fading back.
When I finally made it to Monroe, I followed the motorcycle into the slow-lane and came to a stop light. I then immediately took out my mobile phone and was ready to call the police once the crazy driver stopped and I could read his license plate. But he didn't stop. He tore through the stoplight going at least 20 miles over the limit in the fast lane, and sped off through town. I fully expected to catch up to the guy in a bad accident, but never saw him again. I hope he didn't kill somebody before he got to where he was going. Asshole.
The good news is that I went to a screen-printing check for the new Blogography shirts yesterday...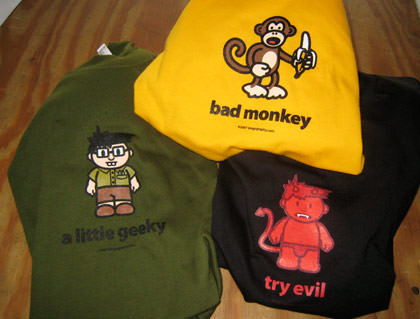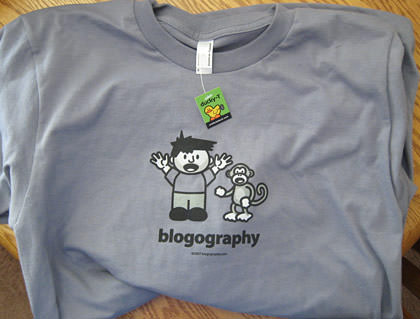 They're pretty sweet, if I do say so myself. Printing on dark colors is notoriously difficult, because you've got to print a layer of white ink first, but everything seemed to work out okay. Probably because my printer kicks ass. The actual print-run is on Monday, and they should be delivered by the end of the week so I can start shipping orders.
To those who bought stuff from Artificial Duck Co. and have been patiently waiting for their order to ship, there is now light at the end of the tunnel. Thanks to everybody for your patience as I worked through some personal stuff this month, and sorry again for the delay.