Today was a positively beautiful day in Seattle.
So stunningly beautiful that I was depressed at the thought of spending all of it inside working. But that's the way life goes, and so all I got to enjoy of it was occasional glimpses out the window.
When I got back to my hotel room at the end of the day, I decided to look for something fun to do indoors to make up for my lack of fun outdoors. My solution was to push the beds together and make a brand new size of bed...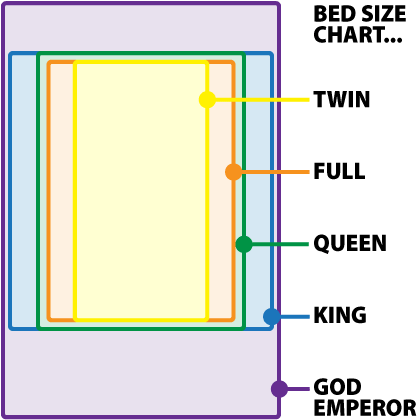 Sweet!
Since it is bigger than all other sizes of beds, I decided to call in the GOD EMPEROR SIZED BED. No matter how tall you are, you'll never run out of leg-room on this baby! About the only problem is trying to find sheets and bedding to fit the thing.
And that's a darn shame, because it's pretty freakin' comfortable. I think between my new bed and the handful of pills I just took, I might actually get a decent night's sleep tonight.
Assuming nobody comes banging on my door at some insane hour again.
I really need to get me an electric cattle prod for such incidents.