Thursdays and Fridays the Seattle Art Museum is open until 9:00pm, so I ran down after work to see what had changed after their recent remodeling. The building itself is very nice, and the collection is eclectic and interesting. Overall, it's a nice addition to Seattle's list of attractions, and I'm glad that I had the opportunity to visit.
However...
One of my biggest museum pet-peeves is museums that don't allow photography, and SAM is just such a museum.
I see nothing wrong with taking a snapshot of a piece you enjoy so you can remember it later on. Many other museums (a good number of which are far more important than SAM) agree, and are happy to allow photography so long as you turn your flash off. It's just a courtesy to visitors, and nothing more. It's not like viewing a photo could ever replace the experience of standing in front of the actual painting, drawing, sculpture, or other work... so what's the harm?
As loathsome as anti-photography museums are, they can redeem themselves in my eyes if they sell prints, postcards, and books which contain images of all their works. If I can't take a photo of something I want to remember, being able to take home a postcard is the next best thing, and I'm happy with that. So after coming upon a beautiful Takashi Murakami "Flower Ball" painting, I rushed to the gift shop expecting to find something I could buy with the work printed on it. But they didn't have anything. Not one f#@%ing thing. It didn't even appear in their catalog OR their web site.
This made me so mad that I felt like walking back to the ticket desk and asking for my $30 donation back.
But instead I returned to my hotel room and drew me a DaveToon homage to Murakami-san, whose work I absolutely love (for rather obvious reasons!)...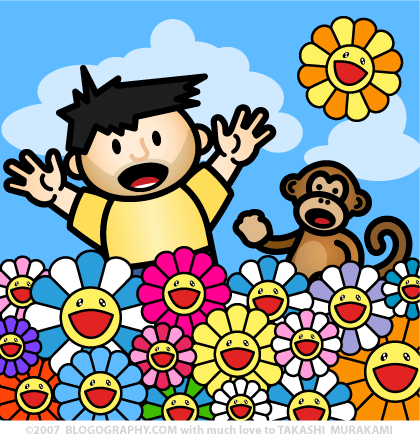 Helpful hint to the Seattle Art Museum: If you aren't going to allow people to take photo mementos of their visit, at least offer a way for them to buy a reproduction of your permanent collection in some form... like a postcard or something. This will keep people from getting pissed off at your visitor-hostile policies, and maybe give people even more reason to visit your beautiful museum when they are in town.
And now I'm off to bed, where I remain hopeful that I can actually manage to get some good sleep tonight.
This insomnia crap is getting really old.