This morning I woke up craving Spaghetti. And not just any spaghetti, but the crappy Chef Boyardee spaghetti that comes in a can. Never one to deny myself anything, I found some in the back of my cupboard and heated it up. But canned spaghetti seems kind of weird and squishy to be having for breakfast, so I dumped some corn flakes on top and it was all good.
The problem is that I didn't eat enough of it, and was still hungry as I was heading out the door to visit my dentist for a teeth cleaning. Since I had already brushed my teeth, I didn't want to eat any Chef Boyardee leftovers for fear of having spaghetti-breath. So instead decided to have a lime popsicle.
It seemed like a good idea at the time, but I immediately realized my mistake when I pulled up to the dentist office and looked in my rear-view mirror to make sure I didn't have anything stuck in my teeth...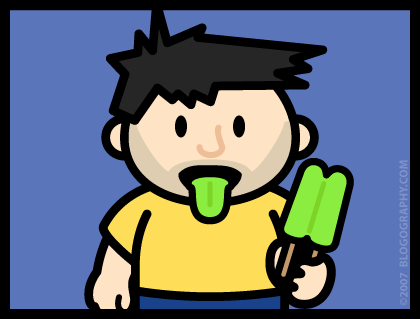 Well fuck.
Can't... catch... a... break...
Faced with the embarrassing prospect of having my dentist see me with a bright green tongue, I search for anything I could use to wipe it off. I started with a few napkins I had in the glovebox... moved on to some tissues I found in my side-pocket... then ultimately ended up scraping my tongue with a Swiffer Duster I found under the seat.
A lot of the toxic color came off my tongue, but I still had a nice green cast as I walked through the door.
I'm fairly certain both my hygienist and dentist think that I am completely insane now, despite not having said anything about my freakishly green tongue... but what else is new?
Still unsatisfied after Chef Boyardee Spaghetti and a lime popsicle, I decided to drop by Denny's for some kind of brunch-type meal. If you've never been, I can tell you that nothing makes you appreciate getting older than eating at Denny's at 10:30 in the morning. The place was crawling with the elderly, and I'm guessing the median age must have been at least 85 years old.
It was the most entertaining meal I've had in ages.
These crotchety old people bitch about everything. They fight about everything. They get away with everything.
Take the couple sitting behind me...
OLD MAN: I want bacon!
OLD WOMAN: You like the pancakes! Order the pancakes!
OLD MAN: I WANT BACON OR HAM, DAMMIT!
OLD WOMAN: THEN ORDER YOUR DAMN BACON, BUT YOU'LL NEVER EAT IT!
OLD MAN: I'M HUNGRY AND I'LL EAT IT!
OLD WOMAN: No you won't.
OLD MAN: YES I WILL EAT IT, AND I'M ORDERING IT!!
OLD WOMAN: Then get the Grand Slam, you get bacon with your pancakes.
OLD MAN: I'm going to get the Slim Slam so I can get some eggs.
OLD WOMAN: BUT WHAT ABOUT YOUR PANCAKES?!? YOU DON'T GET PANCAKES WITH A SLIM SLAM!
OLD MAN: YES YOU DO GET PANCAKES!! IT SAYS SO RIGHT ON THE MENU, DAMMIT!
WAITRESS: Hello there! Have you decided what you'd like to have?
OLD MAN: I WANT THE SLIM SLAM WITH SCRAMBLED EGGS, HAM, AND STRAWBERRIES ON MY PANCAKES!!!
WAITRESS: Errr... okay. And for you ma'am?
OLD WOMAN: Oh! I don't know what I want yet!
OLD MAN: HAH!! YOU WERE SO WORRIED ABOUT WHAT I WAS GOING TO ORDER WHEN YOU SHOULD HAVE BEEN THINKING ABOUT WHAT YOU'RE GOING TO HAVE!! STUPID WOMAN!
OLD WOMAN: OH SHUT UP! SHUT UP!
WAITRESS: Why don't I give you a few more minutes...
OLD MAN: BUT I WANT MY HAM!!
People dread getting older. They fight the aging process every chance they get. I'm just the opposite. I so totally can't wait to get old so I can act like a spoiled two-year-old in public without having to worry about what people are going to think. Once I turn 85, I'm not going to give a fuck about anything... A-N-Y-T-H-I-N-G. I'm going to do whatever the hell I want whenever the hell I want to do it.
Which is pretty much how I am right now, but I'm betting I won't feel nearly as guilty about it.