Today the ship set anchor at Santorini, one of the most beautiful places on earth.
Seriously, you have no idea.
It's not that the island itself is anything terribly beautiful... the land is kind of stark and rocky. It's what the natives have done with it that makes it so special. Namely, the really cool villages that spill over the cliffs. The buildings, architecture, and colors all combine to create something amazing to see. Especially the many churches, which are breathtaking against the vibrant blue sky...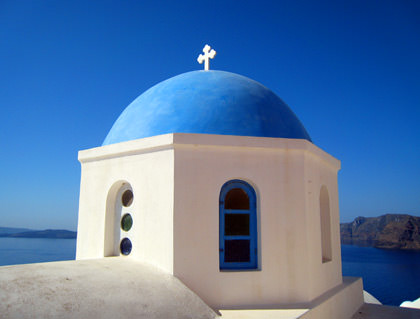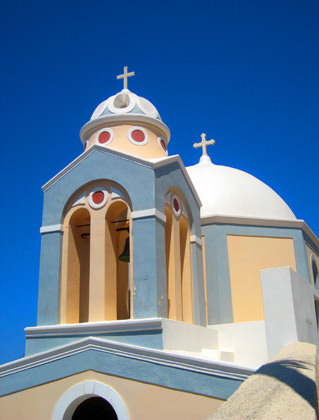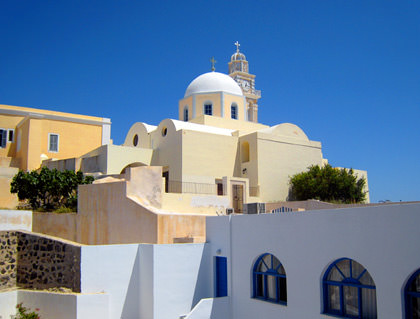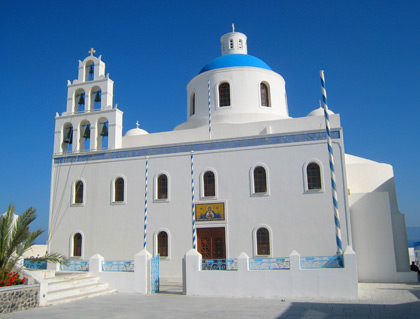 The main city I visited was Fira, which is above the harbor where the ship docked...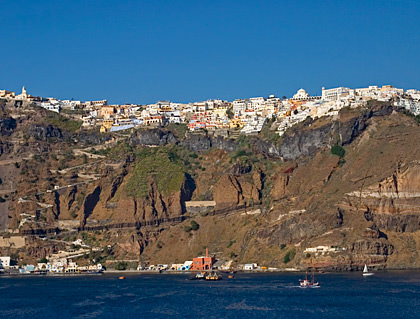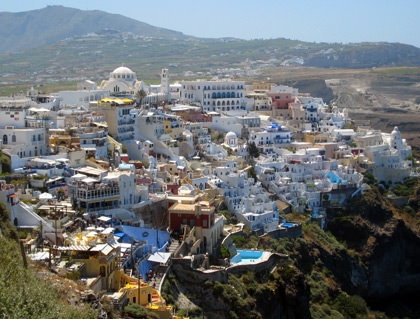 To get up to the city from the waterfront you can either walk, ride a donkey, or take the cable car. Riding the cable car is by far the easiest, but kind of freaky... you'd swear it was traveling straight up in the air. I don't do well with heights, so this was not big fun for me...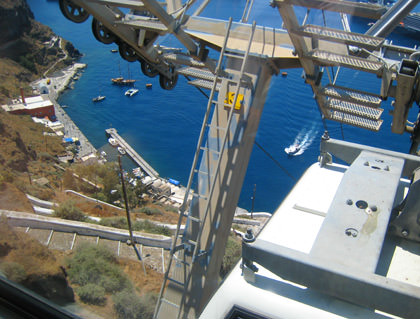 Further up the island from Fira there was a smaller, much quieter village called Oía, which is the kind of place that Santorini is famous for. By the time I was leaving, there were so many tour busses and so many people that it was getting difficult to walk down the narrow streets. But even with the crowds, there's no denying how attractive the city is...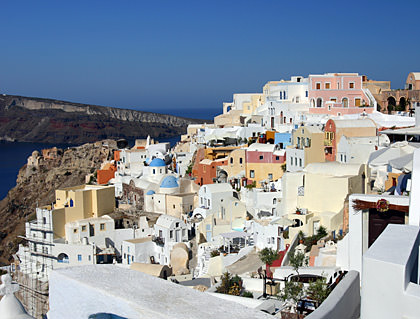 I think I shot more photos in Santorini than I've shot in all other ports of call combined. If it weren't for the masses of tourists which overrun the place, it would be an amazing vacation destination all on its own.
Once back to the ship, I decided to have an ice cream cone, and was pleasantly surprised that the cone that was filled for me was well constructed with a nice swirl on top. When I complimented the girl at the machine, she told me that she had made ice cream cones for five hours the day before, and was getting quite good at it. I was curious to know if the girl at the ice cream machine at the opposite side of the ship was equally skilled, and so I made my way aft to find out. Turns out she was even BETTER at making ice cream cones, but had a very good reason for it. While attending college, she had worked at McDonalds to earn money, and had made thousands of cones during her two years there. I was in awe to be in the presence of an ice cream master, and walked away wondering if I would have the opportunity to practice my cone skills before disembarking.
Ice cream cones so totally rule.