Hey, it's Bullet Sunday from sunny and beautiful Greece today!
• Cotters... Dustin over at Cotters in my Tummy has put down his tater tots long enough to finally add me to his blogroll. I guess I can stop regretting that I didn't kick him out onto the street during TequilaCon now.
• Review... Last week, Avitable selected me as one of the blogs appearing in his first ever Week In Review. Even more exciting than this honor was that he drew up his very own rendition of a DaveToon for the occasion...
The real reason that I traveled to Greece this week was that I was trying to make some kind of grand gesture that would assure me of another appearance in his "Week In Review II" today. Apparently traveling half-way around the world just isn't good enough, so now I'm open to suggestions as to what I should do this week that would guarantee me an appearance in "Week in Review III" next Sunday.
• Acropolis... Hoping to beat both the crowds and the heat, I decided to wake early and visit The Acropolis right as it opened up. Along with The Great Wall of China and the Pyramids of Egypt, this is one of those places that I've dreamed of visiting for as far back as I remember. It did not disappoint, even though it was partially obstructed in scaffolding...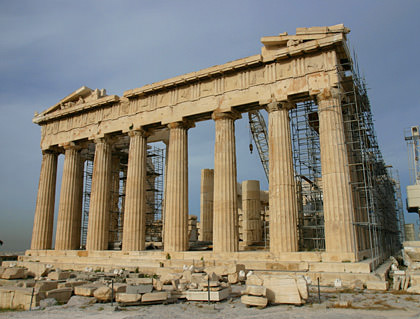 So much of the finer details have been destroyed or taken, but the maiden statues on the Porch of the Caryatids are still there...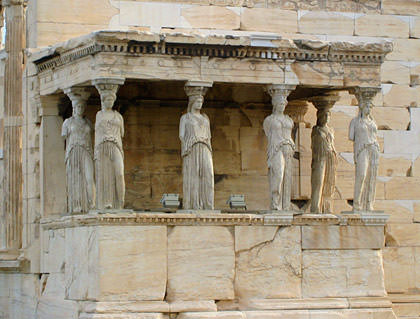 One of the nice things about showing up early was being treated to a procession of guardsmen marching through the Acropolis, their uniforms beautifully appointed. These are the same guards who stand watch at the Tomb of the Unknown Soldier 24-7 at the Parliament Building that I saw yesterday...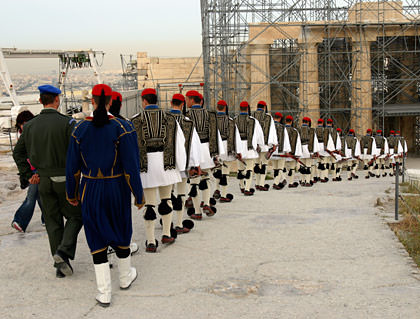 • Architectural... One of the treasures of Athens is their Architectural Museum, which is a bit out of the way but well worth the trip. Most of the statues have significant damage to them (I lost count of the number of poor statue dudes missing their penis), but on occasion there's a piece that's miraculously intact... no missing noses or anything, which is quite remarkable to see...
• Poseidon... The weather was simply too beautiful to stick around the city all day, so I paid a taxi driver to run down the coast to the south-most point of the Athenian peninsula, which is where the Temple of Poseidon resides...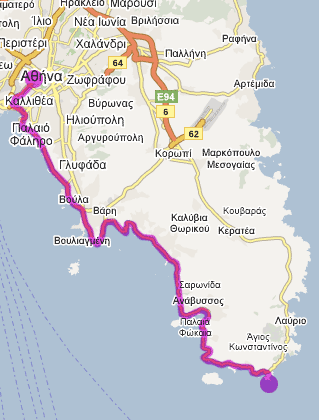 After an hour-and-a-half of beautiful scenery, you arrive at an outcropping overlooking the Mediterranean where the temple was built for the god of the seas. It's survived a little better than most, but is still only a shadow of what it once was...
If only there was a way to travel back in time and see these magnificent structures when they were new.
And so ends my last day in Athens and another installment of Bullet Sunday.