It's a Bullet Sunday Holiday! Well, not really... I'm still catching up on piles and piles of work over Memorial Day weekend. But at least it's quiet.
• DaveToons. While I was on vacation, I worked on one of the many animated sequences for my video. I'm guessing that I'm about 25%-30% finished now. The cool thing about the project is that I am trying really hard to put Lil' Dave and Bad Monkey in places and situations I've never drawn before. It helps to keep things interesting to me so I don't get bored. Outer-space seemed to be a natural, but since I had already done Star Wars and Star Trek stuff before, I decided to take a more "reality-based" approach this time, choosing instead to make them astronaut heroes...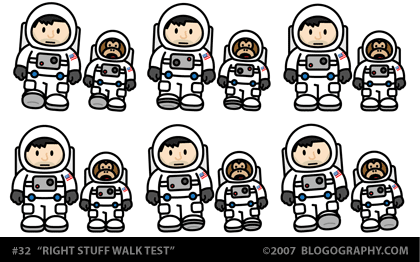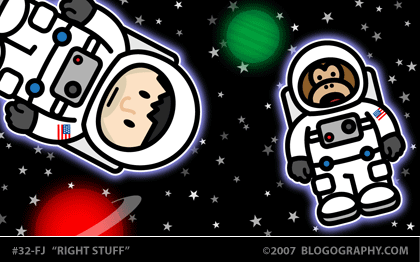 • Robin. One of my favorite Disney toons when I was a kid was Robin Hood. Growing up, I continued to enjoy the character, and was glad that there were plenty of books and movies to explore. Unfortunately, the movies were dated and crappy, but in the mid-80's there was a British television series called Robin of Sherwood which is probably the best interpretation of the character I've ever seen (even when Jason Connery took over for the amazing Michael Praed after series two). The show was tough and gritty, filled with brilliant acting and an almost spiritual reverence for the characters.I've re-watched the episodes many times, and purchased the DVD set a while back. Then in 1991 disaster struck. The Kevin Costner movie Robin Hood: Prince of Thieves was unleashed. This steaming pile of shit was beyond bad, and killed Robin to me for years. Flash forward a decade-and-a-half, and the BBC has taken another stab at Robin Hood with a 13-episode series which has also been airing on BBC America. This time they've attempted to modernize the story a bit, with mixed results...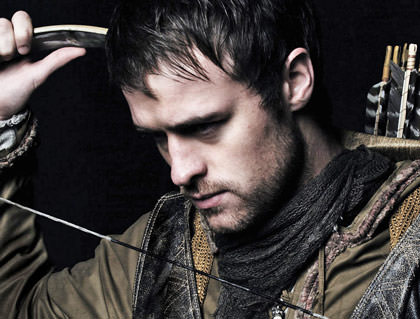 On one hand, they did try to do away with Robin as some kind of poser prancing through the forest in tights and blow-dry hair. This Robin is a mangy scavenger which seems more realistic to me. In addition, they've done a fairly good job of casting the roles, and have filmed the show beautifully, with lush photography and some nice cinematography. Where the show falls flat is that it's a bit boring and drawn-out. Robin starts out as a kind of wimpy pacifist, and there's not a lot of action to be had. In the end I'd have to say I liked it okay, but it still pales in comparison to Robin of Sherwood, which is a real shame. It's my understanding that they have started filming a second series, so I can only hope that the show will improve as it moves forward... the world needs Robin Hood now more than ever.
• Fuzz. Finally got to see Hot Fuzz this weekend and absolutely loved it. Coming from the creators of the fantastic comedy-horror film Shaun of the Dead, this is a tongue-in-cheek look at all those quaint English countryside tele-dramas... but nicely blended with comedy, action, violence, and occasional gory situations. As if that wasn't enough, there's actually a really good mystery story to build upon, and all the acting is top-notch. Much of the humor and situations will be lost on American audiences, but I think that's why it's so amazing... they dumbed it down for nobody. Brilliant writer/star Simon Pegg was not afraid to start the film out slow, gradually building to a violent and action-packed finale that will have Shaun of the Dead fans cheering.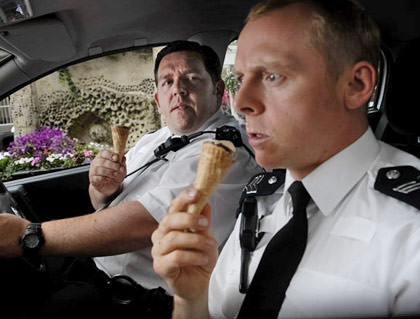 In the movie, London police officer Nicholas Angel is so good at his job that he's making everybody else on the force look bad. The solution? Ship him off to the boring English countryside where he won't have the opportunity to show up anybody. But things are never quite what they seem, even in the sleepy village of Sandford, where everybody has secrets and a shocking mystery is waiting to be uncovered. Five stars from me.
• Fascism. When I made my Blogography Political Sanity Chart last Wednesday, a couple of people asked why I didn't have Ann Coulter on it representing the Nut-Job Right. The reason is that such a hateful, fascist, moronic, lying bitch would throw off the entire balance, causing the chart to be completely messed up like this...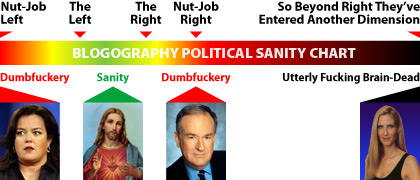 Ann Coulter goes beyond "dangerous" and skates right up to "total fucking destruction." Her never-ending parade of hate and lies is so horrendously bad for this country that the damage she's done is incalculable. She professes to love America, but preaches against everything this country stands for. She's nothing but a skanky whore that will say anything, anything... regardless of consequences... to sell her piece of shit books. The fact that people even listen to what she has to say is surely a sign of the Apocalypse. Ann Coulter is representative of everything that is wrong with the USA, and indicative of all we must triumph over before we can come together and start rebuilding the America we once were.
"I take the Biblical idea. God gave us the earth. We have dominion over the plants, the animals, the trees... God says, 'Earth is yours. Take it. Rape it. It's yours.'" — Ann Coulter (obviously living up to her really fucked-up interpretation of The Bible).
Ugh. Time to get back to work. And I had better think of washing clothes too, because my pile of dirty vacation clothes is starting to smell funny...