I'm home safe for a rather late Bullet Sunday! As somebody who travels quite often, I fully accept that shit happens. Weather can cause delays. Mechanical difficulties pop up. Unforeseen drama can ensue at any time. And, as always, human error is a factor. Rather than get upset by it all, I try my best to just accept it as part of the game and not let it get to me. I find it easiest to travel with the attitude that things will go wrong, whatever happens will happen, and deal with it the best I can when things actually do go wrong. On the other hand, however, it's how the companies actually involved in the problem deal with things that determine whether or not I go out-of-my-fucking-mind ballistic over the situation.
• Delta. Unfortunately, Delta not only dropped the ball when things went wrong for my flight home, they then proceeded to kick the ball into a pile of shit, piss on it, light it on fire, then throw it at my head. This is hard for me to say, because most all of my past experience with Delta has been good. After Alaska Air, they are probably my favorite airline to fly. It was not Delta's fault that traffic at JFK was backed up and we had to sit on the tarmac for 40 minutes. It WAS their fault that they didn't dispatch customer service agents to help those of us who were going to miss our connections (not even ONE fucking agent was there to greet us... and this is a major Delta hub!). It WAS their fault that they said our connecting flights were aware of our delay and if we ran we could probably make our flights. It WAS their fault that when I tracked down somebody, they had me run all the way across the airport to "Gate 24" only to find out that "Gate 24" DOESN'T EXIST... they sent me to a customer service station so they wouldn't have to deal with me. It WAS their fault that their misinformation about making my flight made me re-check my luggage after Immigration, leaving me stranded overnight with nothing but a GameBoy, my laptop, and a credit card. It WAS their fault that not one of their agents had a hotel hotline number for displaced passengers, and I had to pay fucking $225 to get a room so I wouldn't have to spend the night in an airport bathroom. Basically, I was misled, lied to, shoved aside, abandoned, treated like crap, then stranded... all within the course of a two-hour period by Delta. Kind of makes me wish they would have went fucking bankrupt, and this is coming from a former loyal and happy customer. Fuck Delta. Fuck them up their stupid asses.
• Security. I joke about looking like a terrorist, but reality seems to back this up. If anybody is ever going to be given a "second screening" at airport security, it's probably going to be me. I have been pulled aside for body searches and questioning more times than I can count. It never bothers me, I always cooperate, and I never complain... because it is what it is, and there's nothing I can do about it (unless I want to shave, dye my hair blonde, and start wearing 3-piece business suits). And, even though I've become accustomed to it, being pulled from the screening line by two Turkish security guards for a third screening was a bit disconcerting. Especially when I saw that they were taking me to a small, dark, private room across the passenger lounge...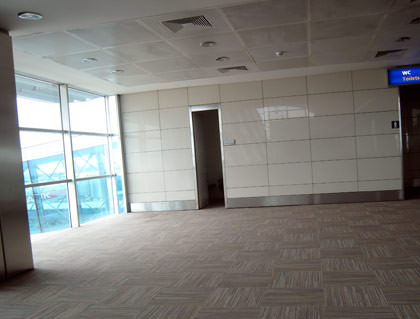 But it turns out to have been no big deal... all they did was pat me down and check my shoes. The room was more for my benefit than theirs, as I think they just wanted to spare me any embarrassment from public scrutiny (which was actually kind of considerate). The door was open the entire time, they were really nice and apologetic about the entire ordeal, and it took less than 5 minutes. I've had a lot worse from American security screenings. It's at this point that I kind of started feeling bad for foreign countries who want to maintain good relations with the USA. On one hand, they have to risk upsetting visitors with more strict and thorough security procedures. On the other hand, can you imagine what the reaction of the US government would be if they inadvertently let a terrorist on a US-bound plane? I wish US citizens who travel abroad would realize this before they start bitching about how rough security is in other countries. They're just trying to keep us safe and our government happy, so shut the fuck up already.
• Crack. I picked up some sesame-covered toffee peanuts while in Santorini because a local business was handing out free samples and I became addicted after just one bite. I now know what it must be like to have a crack-cocaine habit, because these things are more addictive than soft-serve swirl ice cream cones and chocolate pudding combined. I wake up in the middle of the night craving them. Heaven only knows what the withdrawal is going to be like when I finally eat my last peanut.
• Homeward. In driving back from Seattle this afternoon, I got stuck behind some asshole who was driving 10-15 miles under the speed limit. I kept speeding up to pass him, but oncoming traffic was too heavy, and I couldn't find an opening. Finally, after 10 minutes of this shit, I found my chance and made my move. As I was passing, I looked over and saw that the fucker was FLIPPING ME OFF! Yeah, asshole... it's MY FAULT that YOU are driving so damn slow. I'M the asshole because YOU can't drive the speed limit. I hate this shit more than anything else on earth, and it took all my willpower not to slam into this dumb-fuck and run him off the road. And yet, if I were to follow him home, cut off his middle finger with wire-cutters, smash his windshield with a baseball bat, then kick the shit out of him and light his ass on fire... it would be ME who was considered the criminal! I mean, seriously, if you can't drive the speed limit, you should EXPECT that people are going to want to pass your stupid ass. Don't get mad at them because of YOUR problem. Bleh. It's so good to be back home.
• Shipping. Speaking of home... I miss my balcony with a waterfront view from my home onboard the ship...
One day I turned my deck-chairs backwards and turned on my balcony light so I could figure out which cabin was mine. Now that I'm looking at this photo, does it really make a difference? Oh well. I suppose even more than my balcony waterfront view, I miss having housekeeping services. My apartment is a mess, and there's two-weeks worth of clothes that need to be washed.
Would somebody please send me a million dollars so I don't have to go back to work in the morning?