There's so much going on since I'm back from vacation that I guess I need another round of bullet points to catch up? It's Blogography's first ever "Bullet Monday!"
• Viagra. People stealing from my blog is nothing new. Usually I just let it go, because there's no point in getting all freaked out about it. Where I draw the line is when people use my stuff to BE me. The first time this happened, somebody stole dozens of my travel photos and created a blog devoted to "travel adventures" that they never actually had. The second time somebody had stolen photos of me off Flickr and wrote an entirely fictitious life around them. Now there's something entirely new going on... somebody has stolen a bunch of old entries in their entirety, but changed all the links to point to sites selling "Generic Viagra" and stupid crap like that. Needless to say, I'm not happy. Stuff like this is just going to keep getting worse and worse.
• Outfoxed. In checking my stats, I noticed something totally great...

For the first time ever, Firefox has surpassed busted-ass Internet Explorer in browser use. People are finally waking up! In other stats news... Germans love Dave. Turns out that Germany is close to overtaking Canada for the #2 spot in my visitor location stats.
• Veronica. I received many, many emails last week that went something like this: "sorry to ruin your vacation, but Veronica Mars has been cancelled" and so on. While not entirely unexpected, it does suck ass that the best show on television has just been gutted in favor of stupid-ass reality shit like Search For A New Pussycat Doll. What this says about television role-models for young girls today fills me with dread. Much love to the CW Network for doing their part to ruin society as we know it.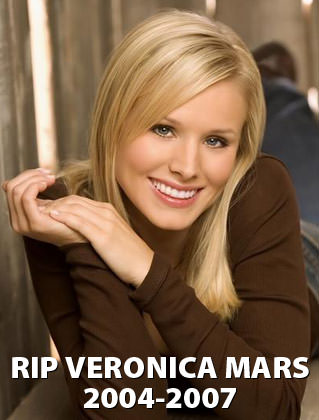 • w00t! There have been only a handful of computer games over the years that I have loved enough to deem "life-changing." Certainly Zork would be on the list. I'd think Dungeon Master and Warlords II would be there as well. And then there's Myst, which actually did change my life. But there is one game... one... which I love above all others. StarCraft. This is the game that was so good that it nearly ruined my life. There was a time that nothing else mattered, and all I wanted to do was play it. Heck, I still play it from time to time. It's a timeless classic that is so brilliant... so astoundingly balanced and well thought-out... so remarkable in its twists and turns... so sublimely perfect in every way... that no game since has come close to topping it for me. And now Blizzard goes and announces that StarCraft II is on the way. There was never any doubt that this would happen, as StarCraft is one of the most popular and beloved games ever, but knowing it is really real is more than a little thrilling. And oh is it ever going to be beautiful...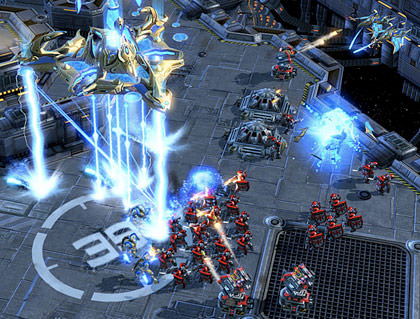 More info and luscious screenshots can be found at Blizzard's site for the game. I, for one, will be counting the days.
Hours.
Minutes.
Seconds.
Whatever.
• w00t! w00t! As if that's not enough, a team is porting Warlords II to the Nintendo DS!
• Barf. I've been catching up on work all evening with the TV running for background noise. I ignored most of what was going on... though Heroes caught my eye a couple of times because =gasp!= the SUPER-heroes were actually USING F#@%ING SUPER-POWERS!! WHAT A CONCEPT!! A pity they didn't bother to think of that sooner, because I might have actually kept watching the show. But it's what was on after Heroes that made me want to crap my pants, barf, then die. Tonight was the season finale of The Bachelor. I've never seen this show before, and now I wish I hadn't seen it at all. I was laughing my ass off as this guy kicks his reject to the curb, telling her how he loves her and will never forget her... but then slams the limo door in her face as she is driven off into the sunset crying. Naturally, the gal is heartbroken and, naturally, the cameras are there to record each humiliating moment because THIS is what passes as entertainment now-a-days. Thank heavens that Veronica Mars has been canceled to make room in the television schedule for more steaming piles like this.
Bah! There's another dozen bullet points I could write up, but I'm too tired to type them just now.
I guess that story about the hole in my lucky boxer shorts will have to wait...