My DSL is back, thankfully, because I was about ready to wean myself off my internet addiction by getting addicted to something new... like hookers and cocaine. Sure it's more expensive, but maybe I can pay for the whores and blow with my credit card so I can rack up the frequent flier miles?
Two years ago I decided to stop charging anything to my credit card and pay for everything in cash or via debit card. My thinking was that this would keep me from running up debt, and force me to buy only the things I could actually afford. This was a big change from the "charge now and ask questions later" strategy I had been using for decades, and ended up being a real eye-opener as to my spending habits.
Today I was checking my frequent flier mileage balance to see what trips I would be taking later this year, and came across another eye-opening discovery... my mileage balance has been slowly shrinking. Since I used to charge absolutely everything on my airline credit card, I received a substantial amount of miles from everyday purchases. Buying a can of fruit cocktail on credit was just another step towards a free ticket.
But no more.
So last night I went back through my old credit card statements and found, to my horror, that I have been screwing myself out of thousands upon thousands of miles annually by paying with cash. As the color was draining from my face, I came to the realization that my lazy attempt at financial management had ended up costing me several hundred dollars in airfare. Had I simply decided to keep better track of my spending instead of eliminating my credit card, I would have been much better off.
So now I'm back to charging everything again, but this time I'm being careful to create a budget and control my spending. Except now my old plan, which was based on not having internet ever again, is in need of revision...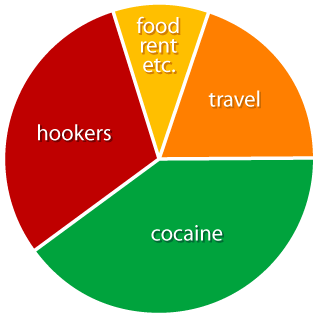 Though I don't suppose there's any harm in trying out this plan for a month or two and seeing how things go...