I just got through beating the crap out of a vending machine so I could get the Hershey's "Take 5" candy bar I just bought, only to discover that it is stale and doesn't taste very good. I should have gone for the "Snickers" bar, because those bitches last forever.
But enough about my lunch.
Last night after I had cried for a few hours because my internet is dead, I decided to do something constructive... like wash clothes and clean out my bedroom. It was while doing the latter that I noticed that the circular polarizing filter for my camera had a nice crack running through it. The last time I used it was when I was in Italy over a year ago, and have no idea how it happened. This was depressing, because a good polarizer costs around $124, and I really don't have that kind of money to be tossing around. But the idea of life without a circular polarizing filter fills me with dread, so I decided to buy a new one anyway.
Which is really difficult right now.
Because just about all of the big camera places are closed for Passover.
This comes as a bit of a shock to people like me living in the uncivilized parts of the Pacific Northwest, where the Jewish population is close to zero. Of course I know what Passover is, having been raised Catholic and seen The Ten Commandments, but my understanding of the Jewish celebration of the holiday is limited to an episode of Sports Night I once watched. I think it has to do with drinking lots of wine, eating matzo bread, and chewing bitter herbs in remembrance of the Mel Gibson anti-semitic tirade of 2006...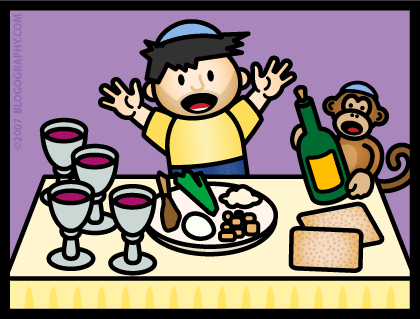 Anybody know where I can get a veggie shank bone?
You also get to wear those little hats and get off work for a week, which sounds good to me (even though I don't look particularly good in a yamaka because my head is shaped like a peanut).
Unfortunately, I inadvertently violated Passover rules when I had my bread machine churn out a yummy loaf of leavened bread a couple nights ago. This wouldn't have been a big deal, except I blogged about it. That makes calling in Jewish at work a risky proposition, since I'm pretty sure there are co-workers who read Blogography. Thus, no Passover for my secular ass.
I'm seriously considering drinking those four glasses of wine anyway though. It will help me to deal with my DSL connection celebrating Passover without me.