I am not a morning person.
Even though I get up before sunrise, my daily routine is such that I'm not good for much during the early hours. Most of the time I'll just grab my laptop and either read blogs or work for a bit until I am motivated to get out of bed. Usually this is dictated by my need to pee, but sometimes it's because the phone will ring or some other disturbance. In any event, asking me to do anything at 4:30 in the morning is a pretty bad idea. But Jessica over at Daughter of Opinion has asked people to take a photo of themselves when they first wake up in the morning, and she's pretty hard to refuse anything.
So last night before bed, I put my camera on my night-stand on top of my glasses so I would not forget. Here is the terrifying result...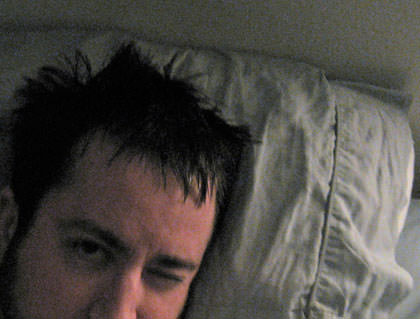 Since it's still dark when I get up, I just turned on my desk lamp and snapped the photo. It's a bit off-center, but considering I am practically blind without my glasses, I feel lucky my head is even in the shot at all.
I find it interesting to note that Jessica looks like she just walked off the set of America's Next Top Model in her photo, which is why I suppose she came up with the idea for this meme in the first place. If I looked that good first thing in the morning, I'd want people to know about it too.
Though, to be honest, I would probably be a lot more crass about it than she is. I'd use it as a pick-up line or something... "Hey baby, I look totally hot in the mornings. But don't take my word for it, why don't you come back to my place so you can wake up and see for yourself... heh, heh, heh."
Men are such pigs.
I suppose I shouldn't complain too much about my photo... I'm just happy that there's not a welt on my face anymore.
Yesterday I was driving down the road while messing with my seat-belt. I needed both hands to turn a corner, so I let go of the belt only to have it slip out of the restraining loop and smack me in the face. Hard. It left a nice red mark that was still there when I went to bed last night.
Nothing quite like being bitch-slapped by life after a hard day at work.