Now, before I go all crazy here, let me just preface this entry by saying that, for the most part, I love Adobe products. I have been using them from the very, very beginning, and simply could not do the work I do without them. Not only that, but I love Adobe as a company as well... they continue to support the Macintosh platform with day-and-date releases with Windows, and that goes a long way towards winning my heart.
That being said, Adobe's latest version 3 release of their amazing Creative Suite of products (which includes such giants as Photoshop, Illustrator, Dreamweaver, Flash, Acrobat, InDesign, and more... depending on the bundle version) has pissed me off greatly.
I go to install the shit, wait fifteen minutes for everything to load up, then am immediately greeted with a notice that my serial number for CS2 isn't authorized to upgrade to CS3, even though I purchased the proper upgrade. WTF?!? Yet another case of loyal, paying customers getting shit on by software companies under the guise of "combatting software piracy." Except everybody knows that software pirates ALWAYS end up getting around this crap, so it's only legal customers who end up getting fucked.
This means I have to call Adobe Customer Service, get put on hold for 15 minutes (with crap "music"), then have to wait another ten minutes while they verify my upgrade is valid. Then I have to offer up a "verification code" and get a "response code" so that my software can be authorized. What a fucking joke.
And, of course, I can't use the same response code for my second authorized laptop install this morning... I have to call and go through the entire ordeal again over a shitty phone line connection to India (or wherever) that I can barely hear anything on.
Fuck you very much Adobe.
Even though your customer service agents where incredibly nice and a pleasure to speak with.
Anyway, now that the crap is installed, it's time to start bitching! Though not right away, because the first thing I notice is the new icon set Adobe is using. Great icons? No. But they are a huge, massively huge, improvement over the incomprehensible artsy shit we got in CS1 and CS2 (which I wrote about here). For starters, you CAN ACTUALLY TELL WHAT THE ICONS ARE REPRESENTING NOW...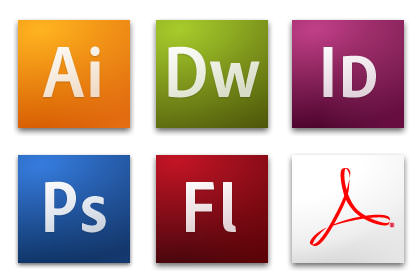 As for the rest of my initial Adobe Creative Suite 3 impressions, I've dropped everything in an extended entry...
When it comes to first impressions of a product, you don't get much more immediate than the box it comes in. Since Adobe creates the tools that the best graphic designers in the world are using, you'd expect that their packaging would be amazing. You would be wrong. I mean, the general concept is nice... lots of flowing colors and pleasing curves... but the implementation is just tragically bad. You can't read the text for shit, and they went and splattered tired old "light trails" over the top of it...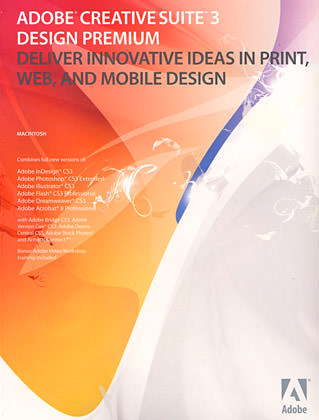 WTF? Seriously, elephants at the ZOO can do better than this! No... I'm really serious... look...

More incredible elephant art can be seen and purchased here.
This box design is also pretty bad in that it doesn't explain anything as to the nature of the products contained within. Even worse, it has zero focus and a poor hierarchy of elements... two things that good package design simply must have to be effective.
Things don't get much better once you remove the box sleeve...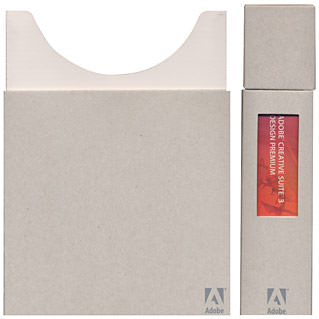 I've seen package design which nicely balances out wild-ass color with very plain elements for a nice artistic contrast, but this is just ridiculous. The box is badly constructed and boring. And the awkward attempt at adding a window of color on the side is lame (not to mention poorly implemented... obviously nobody made a folding model to make sure that the printed graphic would center in the window properly). In the end, I have no idea what Adobe is attempting to communicate with its new packaging, and cannot believe this is what they ended up with. Kind of sad, really. Oh well, at least it looks like they are using recyclable materials for the interior box which is nice.
The package comes with a tiny booklet to tell you about all the cool new things that CS3 can do. Overall, it does a pretty good job of doing so, even though it suffers from a number of design faux pas. Namely, for a piece that is meant to be read, the designer went to rather curious lengths to make sections unreadable...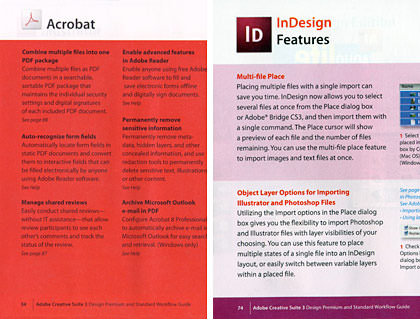 Sure it looks pretty to put black text on a blood-red background, but who can read that shit? Whenever designers do stupid crap like this, I want to slap them (or kill them... the designer for MorningStar Farms who puts IMPORTANT COOKING INSTRUCTIONS in teeny-tiny black text on top of dark green should be shot). The small booklet is overwhelmed with colors (and not in a good way) and certain sections are printed over colors that make your eyes bug out (purple and magenta?). Helpful hint to designers... if something is supposed to be read, MAKE IT FUCKING READABLE!!
Of course, software doesn't come with actual printed reference manuals anymore... but Adobe will sell you a set for fifty big ones. And what do you get for your $50? The complete and total opposite of too much color. No color at all. This is really special for those sections which are using black & white graphics to demonstrate COLOR functionality. Look at this "before & after" from Illustrator's "Live Color" section... can you see a difference?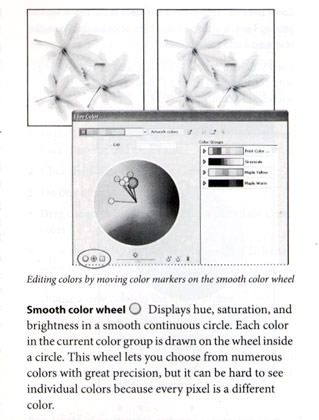 But it gets worse. When you put the books on a shelf, YOU CAN'T TELL THEM APART WITHOUT READING THE TITLES!!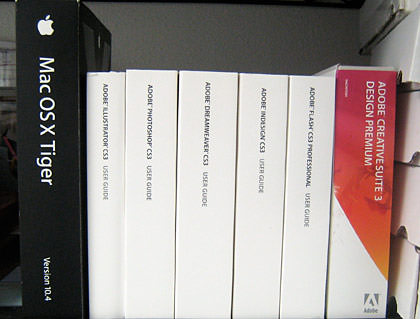 At first I thought Adobe was saving money by printing the covers in black & white too, but I looked at the front and saw that this wasn't the case...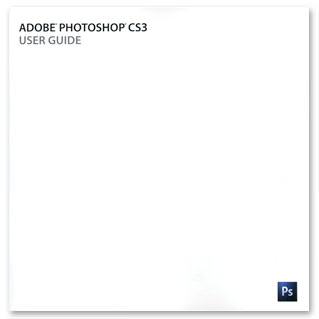 WHAT THE BLOODY FUCK?!?
Yet ANOTHER huge example of somebody's artistic nature completely fucking over usability. Sure it's nice and artsy to have a tiny splash of color on a pretty white cover... but to what effect? NOTE TO ADOBE: PEOPLE DON'T FUCKING PUT THEIR BOOKS ON A SHELF WITH THE FACE TURNED OUT... THEY PUT THEM SO THE SIDE IS SHOWING!! If you're going to spend the money to put color on the book covers, why not put the shit where it will actually do some good. Like, oh, I don't know... ON THE SPINE WHERE PEOPLE CAN USE IT TO DISTINGUISH THEM?!? How fucking difficult would it have been to do THIS...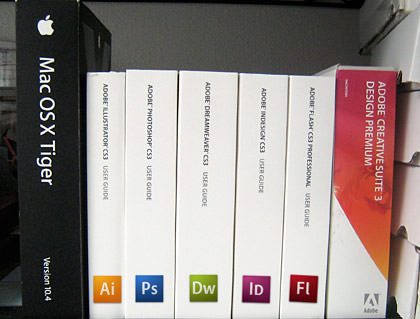 HOLY SHIT! YOU CAN ACTUALLY TELL THEM APART NOW!! On the Scale of Total Stupidity, this has got to be a nine... maybe a nine-and-a-half. Usually you have to invade a country with no plan and no exit strategy to reach this kind of dumbassery. I simply cannot comprehend it when designers do crazy-ass crap like this. It's fine to be artistic, because that's what makes things interesting, but not at the expense of usability, readability, functionality, or convenience. These are basic concepts that any graphic designer should understand. Did anybody even bother to put the books on a shelf to see how they read? I doubt it. If they did, then this would have to be a perfect 10 on the Scale of Total Stupidity.
But packaging and books aren't what's REALLY important. How does the actual product function?
Ever since I got my Intel-based Mac Pro and MacBook Pro, I've been suffering with constant... CONSTANT crashes in Adobe apps. Nothing is more frustrating that to be working on a project for an hour or two and lose everything because you forgot to save along the way. Well, these new CS3 apps are compiled to be "Universal" so they work on both PowerPC and Intel Macs equally well. Hooray!
At least that's what I thought.
Within minutes of starting up CS3 and playing around with Illustrator's incredibly cool new "Live Color" tool, which allows you to instantly adjust colors or apply color pallets on the fly to do nifty stuff like this...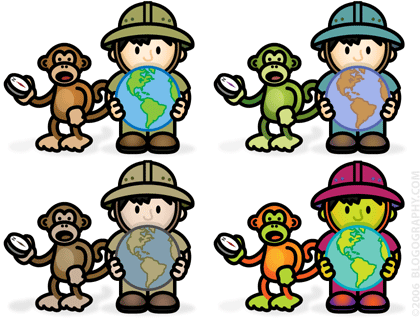 I got this...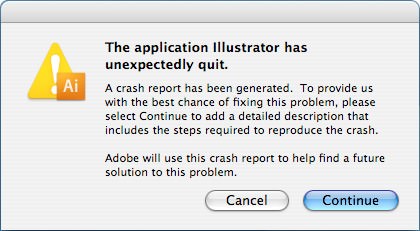 Well this certainly does not bode well. Assuming I'm not crashing all the time in CS3, perhaps I'll blog about all the other cool new stuff they've done with my favorite software later on...
UPDATE! For those of you who cannot get CS3 to install Photoshop over the PS beta that Adobe released... even after using the uninstall utility... they now have a swell "clean-up" script available to root out all those various beta pieces that are messing up your install. I'm posting the link here, because it's not like Adobe gives you any phone numbers to call for help with the CS3 package, and it was a real pain in the ass to search it out on Adobe's site.