Hey, it's Bullet Sunday on Earth Day! A time when eco-minded individuals can feel guilty about the damage we are doing to our planet, then forget it about it again until next year!
• Veggie... As of today, I have been a vegetarian for 19 years. I had toyed with the idea off-and-on for a few years before committing, but it took dating a vegetarian for the diet to stick (which was on Earth Day 1988... a pity we broke up three months later). About the only thing I really miss is pepperoni, for which there is no good veggie substitute. They make fake "veggie meat" for everything else that tastes okay... but the pepperoni always tastes like a crime against nature, and never crisps up properly on a pizza.
• Married... Speaking of crimes against nature... first the most beautiful woman on earth gets married, now the second most beautiful woman on earth has gotten married too. Bollywood actress hottie Aishwarya Rai joins the massive list of "Women Dave Lusts Over That Got Married So They Have An Excuse Not To Date Him If They Ever Found Out He Even Exists." What can I say, my life is tragedy...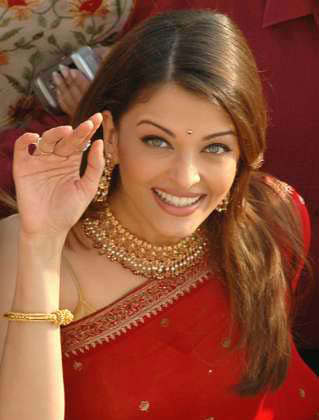 • Discovery... One of the most fascinating television series ever to air on television is Discovery Chanel's Planet Earth. Astoundingly beautiful and thought-provoking in every way, it is essential viewing for all of humanity so we can better understand what a truly remarkable planet we live on. I started watching the show when it began back in March, and today they are airing the final two episodes. I haven't been motivated to get an HD-DVD or Blu-Ray player, but the hi-def release of this series has motivated me to finally start looking into buying one. The brilliant footage they got for the show deserves to be displayed with the best possible picture quality...

• DaveToon... Whenever I think of the earth, I remember a DaveToon I drew a year ago that explains quite a lot about why I am the way I am. Even on Earth Day, I'm an egotistical, self-centered bastard...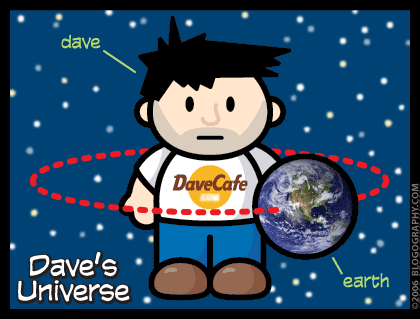 Yes, the world really does revolve around me.
• Saturday Night... "Sunday is Earth Day. Suck it, Neptune!" — Amy Pohler, SNL.
And that's a wrap. This is going to be an interesting week here at Blogography...