Most people are probably familiar with the matching game Bejeweled in one form or another. You swap two similar pieces on a board in an effort to build chains of three or more so that they'll disappear and more pieces will fall to fill in the holes. It's a great game that I've played many, many times... not only as Bejeweled, but as Zoo Keeper, Diamond Mine, and an assortment of other clones. The problem is that it gets boring after a while, because the game doesn't change... it's just more of the same, forever!
Enter a new game for the Nintendo DS called Puzzle Quest: Challenge of the Warlords. Yes, it's based on the same tile-swapping game-play as Bejeweled, but they added so many new layers to the concept, that it really feels like something altogether different...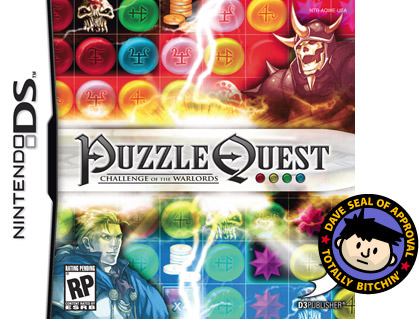 Each of the items you remove from the board adds something to the game play. Colored tiles add to your magical mana, which you use to cast spells during battle. Gold gives you money to buy things like armor and weapons, or build a citadel. Stars give you experience points to gain experience levels and learn new abilities. Skulls cause damage to your opponent. It's all very cool how they managed to merge puzzles and role-playing into something that's so much fun to play. You can even battle another player over Nintendo DS Wirless, if you both have a cartridge...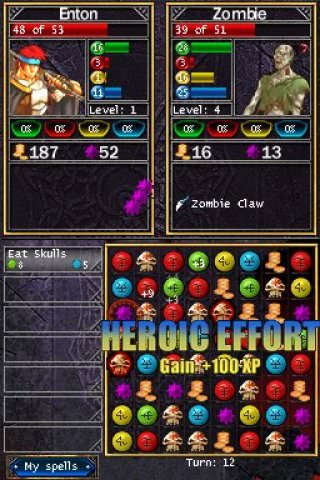 Unlike Bejeweled, which gets boring because there's no real goal, Puzzle Quest keeps you interested. You're always wanting to get more gold so you can add a dungeon to your citadel... or buy some new armor for protection. You're always wanting to get more experience so you can learn new spells and get stronger. You're always wanting to win battles so you can open up more of the map and move on to new challenges. Every choice you make actually means something, and moves you forward in the game's story...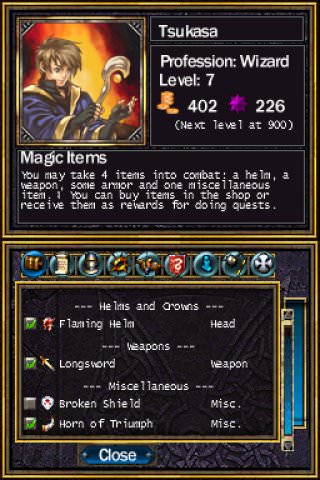 Beautifully rendered, highly entertaining, and incredibly addictive, Puzzle Quest: Challenge of the Warlords gets my highest possible recommendation. I shudder to think how much time I'll be wasting playing it.