UPDATE: THIS CONTEST IS NOW CLOSED! NO ADDITIONAL ENTRIES ARE BEING ACCEPTED!
Looks like there is going to be a slight change of plans for Blogiversary IV Week.
Turns out that the T-shirt voting from the first contest has taken an interesting turn. One design has pulled way, way, way out ahead of the pack (for those of you who were wanting the "A Little Geeky" shirt printed, it looks like you're going to get your wish). The problem is picking a shirt for the #2 spot, because there are three shirts all within 5 votes of each other. This leaves me with a dilemma because with no clear runner-up winner, it's difficult to know which one should be printed...
So I've decided to move tomorrows prizes to today, and change the final prize to be more T-shirts. By putting more money into shirts, I might get quantities that will allow me to add an additional design or two. As an added benefit, this means more people will win prizes. So I think it's a good solution all around. Anyway, back to tomorrow's today's prizes...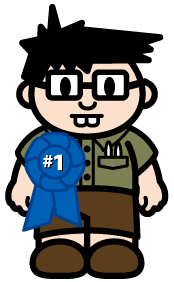 On occasion I receive emails asking me if any of my photos or DaveToons or drawings are available for sale as prints. I suppose I could have printed out stuff on my inkjet and sold it to them, but this seemed like a cheap rip-off to me. So I started searching for a way to have my stuff professionally printed with impeccable quality, yet be of reasonable cost. After a few months of research and buying test-prints, I finally found a solution...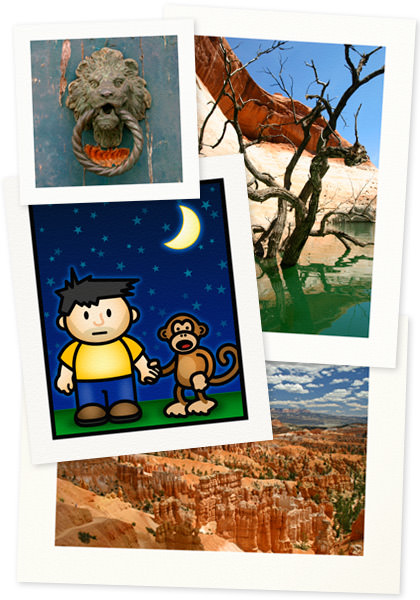 When the Artificial Duck Store reopens, I'll be selling a limited selection of quality Giclée Pro-Prints on a choice of fine art papers or premium photo satin matte. The brilliant inks used are pigment-based which ensures a long print life and quality reproduction. They really are quite nice, and look great when framed.
I'll start with a few of my favorite photos, some DaveToons that have been optimized specifically for print, and add a couple of limited edition items. If people actually end up buying them, I'll be adding new prints from time to time.
In celebration of this new addition to the store, today's contest will feature photo and print prizes...
TODAY'S $225+ GRAND PRIZE DRAWING...



Polaroid A515 Digital Camera ($80 value). This digital camera may be pretty cheap-ass, but it does have 5 megapixels, 4X zoom, 16MB built-in storage, and a 1.7" LCD screen. That's good enough to snap a few photos of your kid, your dog, or whatever... which will come in handy when the next prize arrives...



A Flickr Pro Account Gift Membership ($25 value). Organize your photos online, then show them to the world with this one-year gift membership to Flickr. If you already have a Flickr account, this will extend your membership by a year.



Two Giclée Pro-Prints from the Artificial Duck Store ($70 value). Decorate your life with a couple of classy prints designed by yours truly. These prints are both beautiful and versatile... Embellish your living room with a great photo. Put a DaveToon in your baby's room. Or even use your prints as a really expensive liner for your cat's litter box.



Three Artificial Duck T-Shirts ($51 value). Yep, that's right, get any three shirts you like from the Artificial Duck Store... keep them for yourself, or give them out as gifts that will impress those lucky people you deem worthy of wearing them!



World-Wide Shipping (up to $35 value). No matter where you live on planet earth, rest assured you won't have to pay a dime to claim your prize because shipping is included.

And that's not all, today you also have two other chances to win...
TODAY'S $52+ RUNNER-UP PRIZE DRAWING (TWO WINNERS!)...

One Giclée Pro-Print from the Artificial Duck Store ($35 value).

One Artificial Duck T-Shirts ($17 value). Pick any shirt you like from the Artificial Duck Store, and be happy knowing that you'll be wearing a T-shirt that makes you at least 10% hotter the minute you put it on!

World-Wide Shipping (up to $12 value). Of course shipping is included, because that's the way I roll here.
AND NOW FOR THE RULES...
If you have left 10 comments at Blogography for year-ending 25 April, 2007... all you have to do is send an email to CONTEST EXPIRED! and you're done!
If you don't have 10 comments, you have to include answers to your choice of FOUR of the five questions listed below in order to qualify (sorry, but I'm trying to give a break to those who are regular contributors to Blogography).
HURRY! Your entry MUST be received by TOMORROW: FRIDAY, APRIL 27th AT 9:00PM P.S.T. (Seattle time).
Winners will be revealed on Sunday, April 29th.
Okay then, if you didn't leave 10 comments in the past year, PICK FOUR of the five questions below, and be sure to include the answers in your email entry to CONTEST EXPIRED! All the answers can be found in the Blogography History links listed below or by using the "Search Box" in my sidebar...
When I become Pope, what famous Vatican landmark will I convert into my bedroom?
On my Blogography Dollar Index graph, which year from 2001-2005 was the US dollar at its highest value?
Name one of the three famous people I look like when I'm transformed into a Dead Hooker Baby.
In my super-sweet Collectible Card Game, what is Dave-Devil's Attack Power?
How did I die on my 40th birthday (it's on my tombstone!)?
Remember, the entry deadline is TOMORROW at 9:00pm P.S.T. (Seattle time)! Good luck!
10 BLOGOGRAPHY MOMENTS IN HISTORY, YEAR THREE: 04/05-03/06

Dave makes his first (but certainly not last) bid to become Pope... and then contemplates his Papal super-powers.
Dave gets a lot of hate-mail for this one... I guess comparing the US dollar to toilet paper is a bad thing.
Dave learns how to peel a banana from a monkey.
Dave creates DaveLand, the Daviest Place on Earth!
Dave finally gets all political and shit.
Dave still gets emails from crazy bitches over Dead Hooker Babies.
Dave creates the entire universe (with the assistance of His Divine Monkey).
Dave is tired of lame Collectible Card Games, and decides to create his own CCG.
Dave fulfills his life-long dream to walk upon the Great Wall of China.
Dave celebrates his 40th birthday... then dies and comes back to life as a zombie.